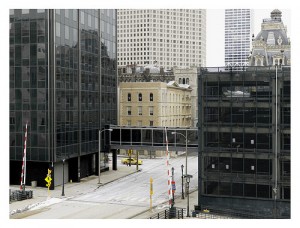 With the Milwaukee Art Museum offering free admission the first Thursday of every month, students have the perfect opportunity to check out the current exhibit, "Postcards From America: Milwaukee."
"Postcards From America" is a collaborative photography project that sets out to capture interactions and relationships that define places across America through multiple perspectives. The Milwaukee edition of the project came to the Milwaukee Art Museum July 10 and runs until Oct. 19. The exhibit was started by a group of Magnum photographers. Before coming to Milwaukee, the group made stops in the mountains of Utah, Rochester, New York and the presidential election in Florida for editions of the project. "Postcards from America: Milwaukee" features work from 11 Magnum photographers: Bruce Gilden, Jim Goldberg, Susan Meiselas, Martin Parr, Paolo Pellegrin, Mark Power, Alessandra Sanguinetti, Jacob Aue Sobol, Alec Soth, Zoe Strauss and Donovan Wylie.
Magnum became the first cooperative agency to be completely established and operated by photographers in 1947. Today, photographers in the agency carry on the mission of their founders to unite in creative freedom, while maintaining their distinct points of view.
"(Magnum) came together as an association to work on the project," said Lisa Sutcliffe, Milwaukee Art Museum's curator of photography. "Experienced photographers don't come in expecting to portray people a certain way in their pictures, but let people portray themselves."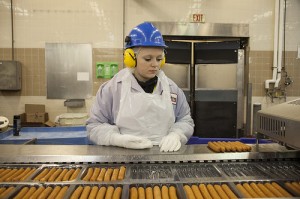 The photographers captured the exhibit's work during visits to Wisconsin from Aug. 2013 – April 2014. The exhibit captures life in Milwaukee and other parts of Wisconsin through photos of food, the working class, students, individuals at the State Fair and other events that took place over the last year.
The photographers showed their distinct styles in the exhibit by focusing on different aspects of life. The 11 photographers expose 11 different perspectives to audiences.
"The photos are as much about the photographers as the subjects," Sutcliffe said.
Photographer Martin Parr chose to show how Milwaukeeans spend leisure time, while Susan Meiselas' photos focus on work life through portraits of factory workers. "The character of Milwaukee's architecture, as well as the magic of its rural life, come through in the photos," Sutcliffe said.
Sutcliffe said the exhibit gives locals a chance to see their city in a whole new way. "Not often do you get to see your own time period depicted in a museum," Sutcliffe said, "It gives you a perspective on your own life."
She encourages students to come to the exhibit in order to fully see the city they live in and to rethink how they take their own photos. Students may even see their own neighbors or neighborhoods in the pictures.
A reason Sutcliffe came to focus on photography is its powerful connection to social engagement, as displayed throughout the exhibit. "The thing I love most about photography is its unique way of connecting to the world we see," she said. "Its ability to show us things in a new way is kind of magic."