Cross-country to compete in Nat'l Catholic Championships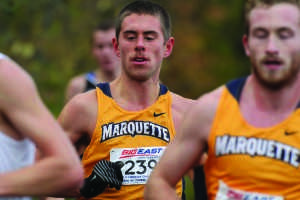 By Ryan Patterson
The Marquette men's and women's cross country teams will compete at the National Catholic Championships Friday at the University of Notre Dame Golf Course in South Bend, Ind.
This is the second meet of the year for the Golden Eagles, after the Badger Opener in Verona, Wis. Sept. 5, where the women's team placed third and the men's team took fourth.
Freshman Alec Miller led a young group of men's runners at the Badger Opener, with four freshman and five underclassmen in the top seven for Marquette. Junior Kellie Greenwood had a very nice race and finished fifth overall for the women's team, which is dealing with some injuries and won't be back to full strength for a while.
While the participants in the race have not yet been released, it's safe to say Notre Dame will be racing once again. Notre Dame swept last year's meet on the team side, as they have done the past few years, and go in as favorites once again.
For Marquette, the women took third last year and the men took fourth, but there are a lot of new runners this year, so it will be interesting to see how the teams perform in this early, high-profile meet.
The women will run a 5k  race at 4:15 p.m., and the men follow in the five-mile race at 5 p.m. These are both longer distances than the first meet, where the women ran a 4k, and the men a 6k race.
Leave a Comment