Tree stump artwork sends inspirational message to city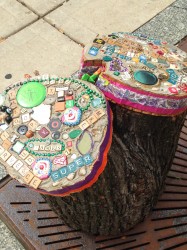 Tree stumps are not a normal part of urban city scenery, yet three of them stand proudly at the bus stop on Wisconsin Ave. and 8th St.
These are not standard brown, lumpy stumps, however. They are brightly colored and bedazzled with jewels of all sizes.
For the past few weeks, the artwork was anonymously displayed. No sign or plaque explained the purpose for the stumps. The mystery artist did not even leave a signature on his or her work.
The stumps remained an enigma until a sign finally appeared near the art with an explanation.
As it turns out, the wooden structures are not stumps at all, but StreetSeats created by artist Evelyn Patricia Terry as part of "The Avenue" segment of the Creational Trails Project on Wisconsin Ave. The project is managed by the Greater Milwaukee Community with support from NEWaukee and beintween, a social network for artists.
Creational Trails is a network that encourages the growth of cultural diversity in the city. One part of the Creational Trails initiative is Creative Placemaking, which includes artists creatively and strategically shaping the physical and social aspects of a neighborhood through artistic activities.
The goal of Creative Placemaking is to accentuate public and private spaces in the hopes of improving local business and public safety, bringing diverse groups of people together in the process.
Terry teamed up with mosaic muralist and artist Sally Duback and Fondé Bridges, a Healthy Words advocate, along with the public who helped collaborate with Terry's "LUV Downtown StreetSeats" project.
Terry said that she enjoyed working on the sculptures, and there were many aspects of the project that made it worthwhile. However, the reaction from the community was most rewarding for her.
"The most enjoyable part of 'LUV Downtown StreetSeats' is the public participation element of this project," Terry said in an email. "Seeing public art being produced with public participation was dynamic."
She is not exactly sure where the inspiration for the seats came from, but traces it back to her work making brooches out of various manufactured objects, or what she refers to as "found objects."
Terry created the stump sculptures with her collection of found materials along with words that describe old Milwaukee, arranging them in a style of art called assemblages. This form of art consists of creating a collage of found objects in either a three-dimensional or two-dimensional composition.
Around the stump, strips of neon orange, green and pink duct tape follow the curves of the wood. Pieces of jewelry, beads, shells, marbles and painted glass lay artistically on top of the seat portion of the stump.
Along with the various knick-knacks placed in the center are words that describe Milwaukee and aim to inspire passers-by. The words "MKE," "formidable" and "love" are spelled using Scrabble board game letters, while other words such as "make good," "super," "joy," "genius," "beach," "magic," "start," "beautiful" and "laugh" come from random objects and surfaces that already had the words inscribed in them.
StreetSeats can be seen all over Milwaukee. Two StreetSeats are located near Plankinton Avenue, while the remaining 14 seats are located between 4th St. through 8th St. on Wisconsin Ave. However, the artwork is only temporary.
Leave a Comment