MU grad spreads chic style with Mary Pockets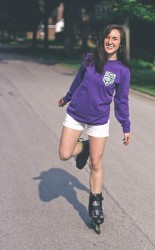 When 2014 Marquette University graduate Margaret Fredericks decided to make a profit from her simple sewing skills, she did not imagine it blooming into a successful business. Her individually sewn shirts started appearing all over campus, and "Mary Pockets," the name of her venture, was spreading quickly.
The business prospect began earlier in her childhood, when her 85-year-old neighbor, Mary, shared her seamstress abilities with Fredericks. She wanted to put her sewing talents to use and thought of the idea to sew fun patterned pocket squares on long-sleeved shirts in Jan. 2014. Fredericks' inspiration was to "create something that was unique but also easily customizable." With the help of many friends on campus, she found herself sewing more shirts than she expected.
As sales increased, she needed to decide on a name for her enterprise. Fredericks went to her neighbor and asked for her opinion, to which Mary replied, "Well, it better have my name on it." After a discussion with her father and a slight spin on "Mary Poppins," the company name was born.
Though Fredericks had schoolwork to complete, business held steady during her senior year. With the help of friends, she was able to promote the shirts by letting people wear them around campus, updating photos on Instagram and Facebook, and word of mouth.  Fredericks did what she could to promote as well, which included carrying around a cutout of all the patterns of the pockets.
As the popularity grew, Fredericks found her main contacts with sorority groups who requested matching shirts and had her making up to 100 shirts to fulfill the entire order. Starting from only long sleeves shirts, Mary Pockets has now expanded and sells short sleeves, baseball tees, crew-neck sweatshirts and tank tops.
Though Fredericks graduated last May and now has a teaching job, she keeps her products present on campus through social media and friends who promote her products daily. The majority of her sales now come from weddings since parties can customize their shirts to match the occasion for events like bachelorette parties. Fredericks hopes to find more partners around the area that allow her to make large group orders.
A way in which she finds partners is through a family network, which includes her mother's business, which also is in the wedding market. This way she can create more connections in the Milwaukee area, reaching out to more wedding parties and brides that may be looking for something interesting such as Mary Pockets for their upcoming events.
Fredericks also collaborates with Bright Pink, an organization that raises awareness and helps supply necessary information to women diagnosed with breast or ovarian cancers. This partnership allows Fredericks to become more involved in events around the Midwest and support a cause she deems important. All proceeds from the shirts that Mary Pockets sells go to Bright Pink.
One small idea spurred the creation of Mary Pockets, and Fredericks' dedication fueled its success. With constant orders and promotion, her company continues to thrive since its start in January and does not seem to be slowing down anytime soon. With large group projects, Mary Pockets continues to have a presence in the area and on Marquette's campus.