Every year, all of Marquette's clubs, sports teams and Greek Life groups take over Central Mall for Organization Fest, commonly known as O-Fest, to recruit potential members. With nearly 270 tables and students flooding in from every direction, some groups have trouble standing out from the rest. As it turns out, some of the most underrated clubs are making big impacts on campus in their own ways.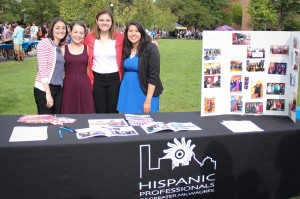 The Hispanic Professionals of Greater Milwaukee formed in order to assist students in building their resumes and getting more job opportunities. Although the organization was originally founded for Hispanics, the club is open to anyone with a desire to build up a professional network.
"Our goal this year is to get as many people internships as possible," said Melissa Parry, a junior in the College of Health Sciences. "We also teach interview skills and are focused on getting students networking."
Although Marquette's own Catholic Relief Services chapter formed just last year, the national organization has been assisting poverty-stricken areas since 1943.
"Our goal is to form different committees to create awareness and form international and global aids," Caitlin Gallagher, a junior in the College of Health Sciences, said.
The organization currently has eight student ambassadors, who lead service groups among students.
One of Marquette's newest clubs, Ukulele Club, started with two students who had a passion for music.
"We used to play out in Central Mall, and people would come up and ask what we were all about," Haley Gallina, a junior in the College of Education, said.
Gallina and Julie Medenwald, a junior in the College of Health Sciences, began planning the club last year before it was approved by the Office of Student Development in May. The club will hold meetings twice a month.
"One week's meeting will include a lesson, with the following being a jam session," Gallina said. "Our club also includes a service feature, where we will perform at nursing homes and children's hospitals."
In its third year on campus, Tea Club provides an outlet for students to come together and socialize, while enjoying various types of tea. Club officers provide the tea, but members must bring their own mugs. The club meets once or twice a month to play games and meet new people. They occasionally venture off campus to Watts Tea Shop, a historic tearoom in the downtown area.
"A club is only as good as members make it," said Noelle Searles, a junior in the College of Communication and the club's secretary. "Our goal is to provide a relaxing atmosphere for students where they can stay and socialize as long as they like."
The Fade in Film Society strives to expose great films to Marquette's campus, as well as produce some of their own work.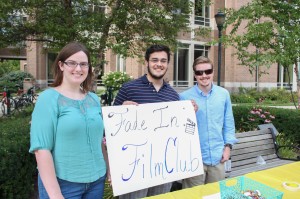 "We are representing a rebut of last year's club with a new focus on introducing Marquette's communities to great films," said Brendan Anderson, a sophomore in the College of Arts & Sciences.
Club members attend free movie screenings in Milwaukee and watch films together on campus.
The Gender Sexuality Alliance of Marquette meets weekly to provide a place of comfort and reinforcement for the LGBT community.
"We have maintained a large political agenda in the past, but now want to create a mostly social club in order to thrive as a community," Sam Polhemus, a junior in the College of Arts & Sciences and the club's vice president, said.
The club's meetings will still include a few serious aspects in order to create a support group for students.
Thanks to the new, reusable to-go box system on campus, the Marquette community has been taking the steps needed to become more eco-friendly. The Green Builders Club hopes to increase that In its second semester on campus, the Green Builders Club meets with professionals to identify environmental issues on campus.
"Our goal is to create a more sustainable campus," Keith King, a junior in the College of Engineering, said.
With the extensive amount of organizations on Marquette's campus catering to all interests, students are increasingly able to find an organization that can help them reach their goals and feel at home.