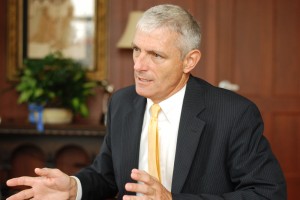 At first glance, it seems Marquette's new president has a lot on his plate.
In addition to being a father and running the largest private university in Wisconsin, President Michael Lovell is expected to continue the roles he developed as chancellor of the University of Wisconsin-Milwaukee, leading initiatives to reshape the city's educational landscape.
But it seems the president's heavy workload has only gotten university leaders more excited about the coming year.
"Dr. Lovell brings a level of understanding of the community that perhaps we didn't have before," said interim provost Margaret Callahan, who also serves as the dean of the College of Nursing. "So it's going to be a fun time — if we can keep up with it."
Although nothing has been set in stone, university leaders said there has already been a lot of discussion about making the university more involved with Lovell's work throughout Milwaukee, with most attention dedicated to Milwaukee Succeeds, the education initiative spearheaded by the Greater Milwaukee Foundation.
"I've heard a lot of complaints that Marquette has not been part of the community, when part of the reality is we do have a lot of great things happening," Lovell said in an interview. "I'm not sure how well it's been coordinated. My role is to help to get the students and the faculty involved in the initiatives. Our faculty, students and staff really want to take part, and that's something I will provide for them."
A CITYWIDE EFFORT
Milwaukee Succeeds, which Lovell has co-chaired since the group formally began in 2011, aims to address the educational disparities plaguing the city in relation to the rest of the state.
Players involved stress developing a citywide, coordinated effort working to achieve specific goals by 2020.
These goals include:
Increasing proficiency for third- and eighth-grade math and reading to bring skills closer to the state average.
Catching Milwaukee up with the state's average composite ACT score of 22.
Bringing the portion of the population with a bachelor's degree up to 33 percent (just above the state average).
Immunizing at least 2,500 more children.
Practically, these goals elicit a number of efforts, such as bringing tutors and mentors to low-performing schools to work with struggling students or developing wellness and immunization campaigns for children.
Marquette started getting involved in the initiative last year, bringing more than 50 students from different majors to tutor at the Milwaukee Academy of Science, a charter school just northwest of campus.
By the end of the year, kindergartners at the school were performing above the state average ​reading score, according to the Milwaukee Journal Sentinel.
And there's even more good news.
Although the group is in its early years, Milwaukee Succeeds leaders have expressed cautious optimism about the citywide progress of their efforts. About 73 percent of the group's goals saw movement in the right direction according to its latest Milestone Report.
Of course, there's still room for a lot of improvement. Much of the progress was minimal, and the initiative actually lost ground in a few goals, such as third- and eighth-grade math proficiency and the percentage of the population with a bachelor's degree.
​Still, leaders emphasize that this doesn't discount the effort.
"Results? Some people would say not so much," said William Henk, dean of the College of Education and a member of the initiative's leadership council. "But I would say, just look at these networks and infrastructures in place now. Just look at these people who are talking now who didn't talk to each other before."
And that's arguably what makes this initiative unique from previous education reforms. The Milwaukee Succeeds leadership council branches out to a near comprehensive list of major players in the educational system, including Mayor Tom Barrett, District Attorney John Chisholm and State Superintendent Tony Evers.
As for schools, there are a number of representatives from the public sector, such as Milwaukee Public Schools interim Superintendent Darienne Driver and Bob Peterson, head of the MPS teacher union. But there are also voices from private, voucher and charter school groups.
And it doesn't stop there. Major businesses and nonprofits throughout the city are also represented, as are most universities in the area.
Overall, Milwaukee Succeeds is a breadth of interests — widely known to bicker on educational issues — now focusing together on one thing: kids.
"It's slowly emerging, but I think it's going to get its traction and begin to exert its influence in the years to come," Henk said. "In five years from now, I think we will be a lot more accountable with the results. And there's part of me that says, I just can't imagine how it couldn't make some kind of difference."
A GREATER ROLE FOR MU
While Marquette students first became involved with Milwaukee Succeeds last year, leaders say there is growing conversation and enthusiasm about how efforts could be expanded by the university.
"You would be really hard-pressed to find a part of the university that couldn't play a role in the betterment of schools," Henk said.
Mike Soika, director of Milwaukee Succeeds, said he has already had conversations with Marquette leaders to brainstorm ways to expand the school's participation. He also said having Lovell in his new position changes the game with the level of university involvement.
"I think it really sets a precedent about what Marquette can do with us," Soika said. "It opens a lot of doors."
Henk said some of his faculty has expressed a growing interest in getting involved, from data management to offering financial expertise. Callahan also suggested that expanding Marquette's tutoring partnership could offer the initiative a more sustainable resource for schools wanting to give kids extra help.
"I think I need to spend a little more time working with the other deans and trying to figure out what that structure would look like, whether it's a service learning opportunity or individual student volunteerism," she said.
For Lovell, the role he said he would like to see in Marquette students is becoming mentors for kids throughout the city beyond the academic setting.
"A lot of these kids don't have good role models," Lovell said. "We have to make sure from before they even start school that kids are ready to go to school. It's a role people from our campus can play — it's serving others and being a difference in the world."
Although there are no specific plans in place at the moment, many students said they were excited for expanded opportunities to get more involved with the community.
"I think it would be good for younger students to see concrete examples of how college works," said Isabel Utschig, a junior in the College of Arts & Sciences.
"It would really benefit college students to get outside Marquette," said Hannah Frett, a graduate student studying physical therapy. "You get so consumed with your school work that you forget there are people who really need help."
ADDRESSING ISSUES WITH TRANSFER CREDITS
Beyond  taking advantage of Marquette's human resources, though, Soika said he thinks having Lovell in the university's president spot will give greater opportunity to accomplish its higher education goals.
Soika said one of the biggest obstacles to increasing bachelor degree holders in Milwaukee is over-complicated credit transfer policies at larger universities. Not all credits from technical colleges work with Marquette, and that's a challenge for people who might not be able to afford four years of Marquette tuition.
"I think it makes those conversations much easier with Mike Lovell in this new position," he said.
Reforming the system is already taking place, with Lovell communicating with all 21 university leaders at a summit last week. Callahan also noted that the university has been reviewing its transfer credit policies over the past year as part of its larger enrollment strategy evaluation.
"We are in the process of finalizing more consistent transfer policies across all schools," Callahan said. "It's been good solid progress, but it's been different. It's taken a lot of conversation across all colleges."
Correction: An earlier version of this article incorrectly stated that the Greater Milwaukee Committee spearheaded Milwaukee Succeeds. Although the GMC collaborates with city groups in the initiative, the Great Milwaukee Foundation is the group that started it. 
Story continues below advertisement