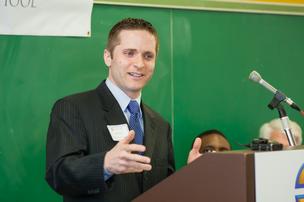 In 2012, 62 percent of Milwaukee students graduated from high school. Of these students, only 40 percent go to college, according to the Milwaukee Journal Sentinel.

College of Education Dean William Henk and Marquette alumnus Andy Stith, along with a host of other individuals and organizations in Milwaukee, are trying to change that.
In August 2015, a new Cristo Rey Jesuit High School, which will be the 29th of its kind, will open in west Milwaukee. Stith will be its first president.

The school is designed to help underserved students in Milwaukee's most educationally barren locales. It will teach college-preparatory courses to ensure its students are ready for post-secondary education.
College enrollment rates for Cristo Rey graduates are twice that of students with similar socioeconomic backgrounds, sitting at about ninety percent, according to the Cristo Rey Network.
The freshmen class will have roughly 100 students, with the same number of students added annually until the school fills its capacity of around 400 students.
A feasibility study is conducted to determine whether a project is financially possible and socially desirable, specifically within the community the project is located. Henk was one of the many people involved in the feasibility study and said he was naturally drawn to the project.
"As an educator, the idea of a school that could serve 400 or more students who would otherwise not have access to high quality, Catholic Jesuit education was sort of irresistible to me," he said.
Henk said the move towards affordable, quality education was long overdue.
"There's been a lot of educational reform since I've been here," he said. "But it's been at the elementary and middle school level, not high school."
Stith, who had been working in Kansas City at a Cristo Rey school as Vice President of Advancement, was excited to hear that his alma mater sponsored a feasibility study for a Cristo Rey school in Milwaukee. He decided to "put (his) name in the hat," and apply for the president position.
When he received the job, he thought he had an opportunity to help provide a quality education to an historically underprivileged area.
"I was happy to be a part of bringing a transformational, educational model to Milwaukee," Stith said.
One of the deciding factors in establishing the Cristo Rey School was community acceptance of the project. A portion of the feasibility study was devoted to determining whether the city wanted such a school.
The community overwhelmingly supported the project.
Stith was quick to point out Marquette's significant role in the process as it is the first university to take part in a feasibility study for a Cristo Rey School.
"I can't underscore enough how important Marquette was at being a catalyst for this school," Stith said. "It actually walks the walk."
Cristo Rey uses a work-study program to help cover the cost of attendance while also providing professional work experience for students at a number of professional partnerships. Marquette will be one of them for the Milwaukee branch.
Stith and Henk worked on the feasibility study together, along with 40 other volunteers from Marquette and the Milwaukee community, creating an extensive report documenting their findings.
"The feasibility study was the width of three dissertations," Henk said. "If someone was shooting a bullet at you, you'd want to be holding it."
All of the work aside, they were happy to do it.
"It was an honor – a two-year-plus honor, though," Henk said. "It would have been worth it to come to the end of all that work and find that it was completely infeasible, because at least the foundation would have been laid."
Thankfully for them – and the 100 incoming freshmen for 2015 – it was found feasible.