Oculus' Quality More Scary than the Actual Movie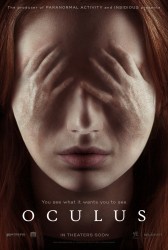 Although the new horror movie "Oculus" will scare viewers right out of their seats, it is a classic example of a ghost story that has been told one-too-many times.
Director Mike Flanagan's latest film takes another swing at sharing this satisfying ghost story in a remake of his 2006 movie, "Oculus Chapter 3: The Man with a Plan." It tells the story of a haunted mirror, known as the Lasser Glass, which has caused many mysterious and violent deaths since 1754.
Many of the mirror's owners fell victim to the curse, but siblings Kaylie (Karen Gillan) and Tim (Brenton Thwaites) return to their childhood home to provoke and prove the evil inside that left their family in peril 10 years before.
The movie focuses almost entirely on one house, alternating between present day and flashback scenes. Kaylie is a slightly obsessed maniacal individual who spent most of her life as an orphan tracking down the possessed mirror to avenge her family. Tim, on the other hand, was recently released from a mental hospital for allegedly murdering his father in a gruesome fashion. Part of their plan is to prove the wall decor from hell actually caused the murder. The other part is to destroy the mirror and the evil within.
From there, the script turns oddly psychological. Throughout the course of the film, Kaylie and Tim interact with their younger selves (Garret Ryan and Annalise Basso) as well as their dead parents (Rory Cochrane and Kate Sackoff) in a series of strange, out of order events where the sibling duo goes deeper and deeper into the dark paranormal activity within the mirror. Whatever "it" is that causes these paranormal activities to occur is never fully explained, but viewers do get to witness a scary demon girl every once in a while who could be the culprit. Other possibilities include paranormal fantasies or a shared mental illness between the siblings.
Flanagan creatively uses non-traditional editing skills that warp the viewer's perception of the past, present and ultimately the reality of Kaylie and Tim. One moment, Kaylie is taking a break and eating an apple in front of the mirror. The next, she's 12-years old taking a bite out of a lightbulb. To say Flanagan's editing skills will mess with your mind is an understatement. He also avoids using gory images and unnecessarily loud noises in an attempt to scare the audience. Instead, he tells the story in a twisted, distorted way that preys on the viewer's imagination to create the fear for him.
Although "Oculus" may be creatively told, it still doesn't break any ground in the horror movie genre. Compared to past top sellers like "Paranormal Activity" and "Sinister," the storyline and plot of "Oculus" simply don't stand out as original.
To boil the 150-minute movie into one sentence, "Oculus" is the story of an artifact inhabited by supernatural forces mixed with young, good looking actors and a variety of pop-up scenes that are nothing new.  If you've seen one scary movie, you've seen "Oculus."
Stars: 2 out of 5
Leave a Comment