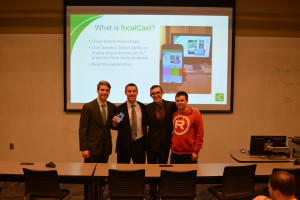 FocalCast, a phone app company created and financed by Marquette students, will participate this weekend in the Rice Business Plan Competition, an international contest in Houston between some of the best universities and colleges in the world.
The competition hosts students from all over the world and includes teams from the country's most prestigious institutions, like the Massachusetts Institute of Technology and Harvard University. It considers itself "the world's richest and largest graduate-level student startup competition," according to the competition's website.
Of more than 500 business plans, 42 were selected, including focalCast's.
The app was the idea of Devin Turner, co-founder of focalCast and a senior in the College of Engineering. It is similar to Google's ChromeCast, which allows users to transfer media between mobile devices and televisions.
The app "casts" presentations using wireless direct technology. This term, casting, refers to the transferring of media wirelessly from mobile devices to display devices and is from where the name focalCast is derived. It supports Dropbox, Cloud and Google Drive and is available only for Android phones.
Charlie Beckwith, a senior in the College of Engineering, is focalCast's co-founder and lead programmer.
"Devin (Turner) found me over the summer through a mutual friend with the aspiration to build an application using wireless-direct technology that Intel created," Beckwith said. "It's relatively new technology. I hopped on board right away because I was excited to be involved in a project that I could actually wrap my head around. So we kind of just went brain-storming and looked at what fields people could use this in, what applications this application could be used in and we came across presentations as the best use for this new technology."
Five members worked on focalCast, from undergraduate computer engineers to graduate students in the MBA program. Turner and Beckwith proposed the project to Marquette so it could receive university advising and supervision. The app is also a senior design project for the engineering program.
Though the app is under university supervision, Marquette is not financing focalCast.
The project is funded entirely out-of-pocket, mostly by Turner. He said he had to sell many of his possessions, but it was worth it, now that the project is receiving accolades.
This week, focalCast won the Marquette Business Plan Competition. If it wins this weekend's Rice Competition, the group could receive more than $900,000, like last year's winner.
"The competition is mainly for graduate students with more experience," said Jack Batzner, focalCast's software developer and a senior in the College of Engineering. "It's basically a way to get your business idea or patentable idea funded so that you can actually turn it into a business. There's a lot of angel investors and venture capitalists that are there who grill you on your business plan as to how you're going to make your product successful, how you're going to bring it to the market and you could win all the money."
The project took months to develop, but by October, the team had a working product underway. Turner said the app made tremendous headway in the past six months and the team is now set to compete this weekend in Houston.
"We've progressed well in the past six months," Turner said. "We finalized our idea, submitted a provisional patent application, got a working demonstration with a public demo, we've been using the app to give lectures in the college of engineering and we're now moving into corporate beta testing with partners like Brady Corporation, Marquette University, UW-Madison, a high school in Madison and others, hopefully soon."
With the app finally taking off, the dream of the project is quickly becoming a reality for the group.
"It's brought together a project with very little resources to become something that could be gargantualy huge," said Nick Winninger, focalCast's business director and an MBA student at Marquette. "It's an overwhelming sensation of happiness and it's great. It's simply great."