Wojciechowski holding 2014 recruiting class together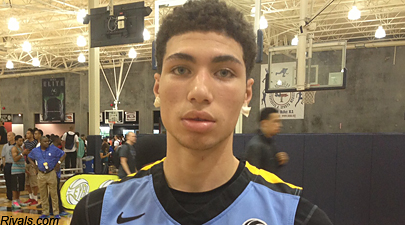 Perhaps the biggest source of optimism for Marquette basketball during the sometimes painful 2013-14 season was the 2014 recruiting class former coach Buzz Williams put together.
When Williams announced his departure from Marquette March 21, that class, which ESPN currently ranks 23rd in the nation, fell into doubt. Marquette hired new coach Steve Wojciechowski April 1, and the former Duke assistant made it clear that one of his top priorities was keeping Williams' recruits on board.
Here's a look at what the Tribune know about Wojciechowski's interactions with Marquette's five-player class to this point.
1. Sandy Cohen
The 6-foot-6 switchable from Green Bay is the only recruit Wojciechowski received official word from on renewing his commitment to the Golden Eagles. Cohen met with Marquette's new coach last Thursday and tweeted, "the visit with Coach Wojo was amazing. Can't wait to build a better relationship with him."
That was a huge revelation for Marquette fans, since Cohen and Marquette Interim Athletic Director Bill Cords previously miscommunicated about whether Cohen would be released from his national letter of intent or not.
Cohen put the program at ease Tuesday when he tweeted, "couldn't be happier to spend the next four years of my life in the city of Milwaukee #MarquetteBound." The Seymour High School senior, who is ranked 83rd on the ESPN 100 for the class of 2014, figures to factor into the small forward discussion, behind rising sophomore Deonte Burton and rising senior Juan Anderson.
2. Ahmed Hill
Marquette's highest-ranked recruit, at No. 54 on the ESPN 100 list, is reportedly "weighing his options." Hill signed a national letter of intent, but is waiting on a discussion with Wojciechowski before he makes his next move. A blog post on the Atlanta Journal-Constitution's website Friday shed light on Hill's current thoughts.
"I'm going to wait until I talk to the coach before I think about anything," Hill said. "My family told me (after the conversation takes place), I need to go ahead and do whatever I decide to do … to just go ahead and do it. My family said they will support me with whatever I do."
Hill also expressed his potential commitment, saying, "I will probably stay with Marquette unless I hear something I don't like."
3. Malek Harris
Many did not expect Harris to honor his commitment to Marquette even with Williams as coach, since he did not sign a national leader of intent after being kicked off of his high school team in the fall. According to College Basketball Talk, NBC Sports' NCAA basketball blog, Harris decommitted from Marquette Monday.
The 6-foot-7 small forward reopened his recruitment process to a list of five schools that includes Marquette, Florida, Kansas State, Gonzaga and Williams' new home, Virginia Tech. At this stage, Harris seems unlikely to be on the 2014-15 roster for the Golden Eagles.
4. Marial Shayok
Not much is known about Shayok's intention to honor his commitment, but the Ontario, Canada native put together an impressive senior season for Blair Academy in New Jersey. The New Jersey Star-Ledger named Shayok its Prep Player of the Year in March. The 6-foot-7 forward would greatly bolster Marquette's thin front court if he honors his national letter of intent.
5. Satchel Pierce
Pierce, a 7-foot center from Kiski High School in Pennsylvania, is also weighing his options after signing a national letter of intent in the fall. Roger Gonzalez, a reporter for Waynesboro, Va. paper News Virginian, tweeted that Pierce would "consider" asking for his release and following Williams to Virginia Tech.
According to Michael Hunt of the Milwaukee Journal Sentinel's website, Pierce "might want out." That might have to do with the acquisition of Indiana transfer Luke Fischer, who will likely start at center when he becomes eligible Dec. 14.
How ever the situation plays out, Wojciechowski certainly expressed an early commitment to holding Williams' solid 2014 class together.
Leave a Comment