Students join Chamber Theatre for 'Lend Me a Tenor'
The Milwaukee Chamber Theatre is teaming up with the Marquette Theatre Department to bring a classic musical comedy-turned-Broadway sensation to Milwaukee.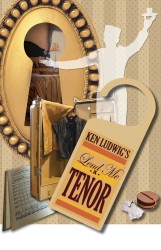 The result of this collaboration is Ken Ludwig's "Lend Me a Tenor," premiering Thursday, April 10 at the Broadway Theatre Center's Cabot Theatre in the Historic Third Ward. The production runs until April 27.
Set in 1934, "Lend Me a Tenor" is a funny behind-the-scenes look at one day in the life of "The Cleveland Grand Opera Company." As actors start to back out of roles, replacements must be found, jealous wives must be dealt with and scheming sopranos must be restrained to save the opera in just one day. Considering the play has been produced in more than 25 countries and won two out of its nine Tony Award nominations, the Milwaukee Chamber Theatre and the Marquette Theatre Department have high expectations.
"The show is very funny, but it isn't your traditional musical," said Cara McMullin, marketing director of Milwaukee Chamber Theatre. "We are really proud of this production. Not only our actors, but everything from costumes to set design is extremely extravagant. Everything is just so over the top. Visually, it's going to be an extremely beautiful production."
McMullin said Milwaukee Chamber Theatre has collaborated with Marquette multiple times in the past.
"Our mission as a theatre company is to nurture the next generation of theatre," McMullin said. "So working with universities is obviously a great way of doing so."
The Milwaukee Chamber Theatre began a three-year "University Collaboration Series" in 2009 as part of its mission to help young artists. Marquette joined the series in the spring of 2011 in the production of "The Lion in the Winter."
"A really cool thing about the collaboration is that you get to work with people as students, and then, down the line, have the opportunity to work with them again as professionals," McMullin said.
McMullin referred to theatre artists such as Alexandra Bonesho, a Marquette alumna who worked as a supporting actress in the production of "The Lion in the Winter" as a student. Now, she is returning in one of the lead roles, Diana, in "Lend Me a Tenor" as a professional.

"Returning to the Milwaukee Chamber Theatre in another collaboration with Marquette means a lot to me," Bonesho said. "'The Lion in Winter' was a wonderful experience that made it possible for me to interact and perform with actors I had admired for a long time and furthered my aspirations to pursue acting."
"Lend Me a Tenor" has a cast and crew of 15, eight of which are either current Marquette students or Marquette alumni.
"That's just Milwaukee theatre for you," McMullin said. "Our city's art departments and theatre world intermingle a lot. We all have worked with each other in some way or another, and are all very supportive of each other. It's a different theatre environment than most cities."
Nic Trapani, a senior in the College of Communication, understands the importance of the "intermingling theatre life in Milwaukee." He already has multiple experiences in both professional and educational theatre productions, currently working as the lighting designer for "Lend Me a Tenor." 

"I've worked with the Milwaukee Chamber Theatre before as the assistant lighting designer, where I did a lot of watching and learning," Trapani said. "But in this production, it's all me. I am happy I had that first experience, because that's where I learned the most and built my relationship with the Milwaukee Chamber Theatre as well as (director) Michael Wright."
Even Wright shares a connection to the university. He directed the Marquette Theatre production of "Lend Me a Tenor" in 1996.
"Michael Wright constantly encourages us to play and discover new things together as a cast," said Peter Sisto, a junior in the College of Education, who plays Bellhop. "In a way, we are all learning from one another as we rehearse for the show. Learning from each other is truly when the best acting starts to take place."
Rehearsal for the production started March 18, giving the cast and crew roughly four weeks of preparation. This is a much faster pace compared to a Marquette Theatre production, which usually has over two months of rehearsals.
"Being a part of this show gave me a taste of the real work-hours of an equity-actor," Sisto said. "Some days there were very long rehearsals, and some days there were really short rehearsals. It was very interesting to learn the scheduling and time management an actor must master throughout their career."
The collaboration lets Marquette students learn the ways of professional Milwaukee theatre fast, but they all agree it has been a learning experience they are extremely grateful for.
"Working with professionals is just extremely eye-opening and exciting," Sisto said. "The actors and director have been so welcoming and made me feel right at home on their stage. They treated us with the same respect we gave them, and I learned so much just by watching them work with one another."
McMullin said the show is not just the product of a successful partnership; it showcases the talent of students and professionals who will form the future of live theater in Milwaukee.
"The show is just a very funny and unique production to come out and watch," she said. "It's really cool watching these talented people get up on stage and do what they do best. The professional actors have really enjoyed working as mentors, and the students have just been sponges taking in everything. It really gets you excited for the future generations of Milwaukee theatre."
Leave a Comment