Marquette Theatre takes on 'Hamlet'
Tragedy, madness, humor and action – "Hamlet" has it all.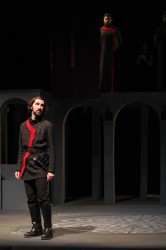 Marquette Theatre's production of "Hamlet," opening Tuesday and running until April 13, tells one of William Shakespeare's greatest tragedies. It's a story about the pursuit of power, danger, madness and the pitfalls of revenge with a healthy dose of humor to keep things from getting too dark.
It revolves around Hamlet who, at the start of the play, is still mourning the death of his father and brooding over the hasty marriage of his mother to his uncle, Claudius, who is now the king of Denmark. Discovering that his uncle murdered his father and usurped his throne, Hamlet sets out to seek revenge. Though the old proverb states, "When you seek revenge, dig two graves," by the end of this tragedy, an entire graveyard is called for.
The complex play requires a lot of effort from its cast and because of its elite status, is rarely performed on college campuses.
"(Hamlet's) sort of a once in a lifetime thing," said Maureen Kilmurry, director and professor of acting in the Marquette Theatre Department. "People don't do 'Hamlet' a lot, and colleges don't really do 'Hamlet' a lot."
There is a lot of pressure playing the lead role in the bard's most famous tragedy, but Kyle Conner, who plays Hamlet, has been doing everything to prepare and make the part his own.
"A lot of my 'Hamlet' research began back in Christmas break (in 2012)," said Conner, a junior in the College of Communication. "Then, I really wanted to make sure I got into the show because I care about classical pieces a lot."
Playing such a well-known role requires a lot of preparation. Since that break, Conner has, by his own estimate, read the play in its entirety around 33 times to know all the ins and outs of the work in its many versions.
"I'm sure there is a give or a take in (that approximation) somewhere," Conner said.
The text was vital in interpreting the work and making sure the actors knew the weight of what they were saying on stage.
"Maureen has a very specific way of looking at classical texts," Conner said. "(She) has a very analytical text based approach … because when you say the words of Shakespeare, you feel the story coming out."
Conner also watched different movie adaptations to get a feel for all of the portrayals of Hamlet. The cast's favorite, as well as his own, is a 2009 BBC production with David Tennant in the titular role.
"He had a little bit of a lighthearted, if that makes sense, lunacy to his approach," Conner said, "and I started taking that with this but it didn't really fit in with the rest of the piece."
All of this research prepared Conner to don his own version of Hamlet's inky cloak and not just look the part, but actually be Hamlet onstage, at least for a time.
"(Kyle) has worked really, really hard," Kilmurry said. "I know he loves Shakespeare, and he's making the most of this opportunity."
That hard work includes deciding how to play the famous character. How mad Hamlet really is becomes a major question as the play progresses, as he tries to confront the slings and arrows of fortune.
"(Hamlet acts) in a very twisted way that most people wouldn't expect," Conner said.
In the process, he drives his love interest, Ophelia, played by Jaclyn Villasenor, , mad by killing her father.
"This is my first time being on the main stage," Villasenor, a sophomore in the College of Art & Sciences, said. "It's a big deal. I'm really excited about it."
Some scenes required intense physical preparation, like the play's finale, a violent duel between Hamlet and Laertes, Ophelia's brother. Before getting on the stage, though, the actors had to learn the basics of swordplay.
"We had a fight choreographer come in and teach us two months ago," said Terrence Morris Jr., a junior in the College of Communication who plays Laertes. "First, it was kind of slow. He was just teaching us the basics, and you can get kinda impatient, 'cause I know how to step. I know how to stab … but then when it comes time to actually learn the choreography, you realize how crucial all that stuff really is."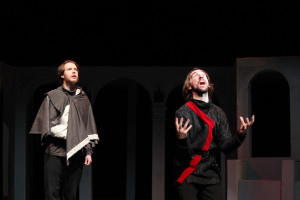 "Obviously when you do shows like 'A Doll's House' or 'When You Take a Mouse to School,' you won't be shoving people off stage or killing them with swords, but I love it," Conner said. "It sounds a little macabre of me, but I love getting to swing my sword at somebody."
For Morris, the duels are not just part of a climactic end; they fulfill a childhood dream.
"I hate that I don't get to do as much stabbing as Hamlet does," Morris said. "It's something I've wanted to do for a pretty long time. I remember growing up and watching movies and stuff, and like, I was a big Power Rangers fan, (so I recreated those) stories with friends. You try to plan it out perfectly and incorporate fight sequences and, 'OK, I stabbed you,' and 'No, you didn't.'"
While Hamlet is the sun at the center of the play, he is surrounded by equally complex characters with their own motivations and stories. Even the comic relief provided by Rosencrantz and Guildenstern, Hamlet's college friends, and Polonius, the advisor to the court, adds an essential part to the play.
"We are the comic relief, so it's a fun angle to play with as antagonist characters, even if we're secondary (to) antagonists in nature," said Patrick Hasselback, a sophomore in the College of Communication who plays Guildenstern. "My favorite bit is when we are making all these dirty jokes about how fortune is a strumpet, and it's raunchy even for Shakespeare's time. I would like to see the look on Elizabeth I's face when she first saw this play at the Globe."
With all of the complexities and emotional highs and lows, performing "Hamlet" leaves the actors exhausted, but triumphant.
"'Hamlet' especially is all over the place and it's up and down, up and down, all night for me emotionally," Conner said.
Leave a Comment