Hunger Clean-Up celebrates 25 years of service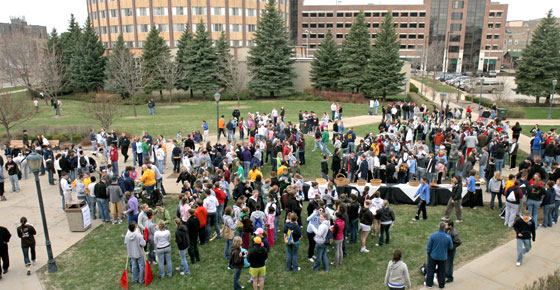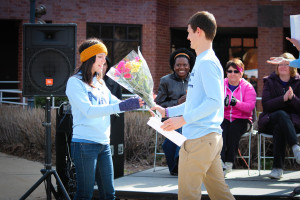 Hunger Clean-Up, the student-run volunteer group behind the university's annual day of service in April, is celebrating its 25th anniversary with a benefit fundraiser dinner during which it will award Milwaukee nonprofits with three $3,000 grants.

The formal dinner, held Thursday at 6 p.m. in the Alumni Memorial Union, will include a silent auction and the presentation of three grants to recipients chosen by the Hunger Clean-Up staff, including the AIDS Resource Center of Wisconsin, Project Concern and COA Youth and Family Centers. Funds raised during the dinner will help to offset the cost of preparing for the day of service and for the grants themselves.
The dinner will feature hand-made decorations made out of pictures from past service days to match the group's simple and interactive nature.
"We're creating a celebratory environment because the dinner's purpose is to recognize how far (Hunger Clean-Up) has come, (especially) in terms of numbers," said Danielle Schiestle, Hunger Clean-Up co-coordinator and a sophomore in the College of Health Sciences.
The annual day of service event will bring students, faculty and other volunteers to 42 sites throughout Milwaukee. So far, 47 teams have signed up. A maximum of 1,900 students can participate, and the last few years have seen turnouts of 1,500 students.

Although the event lasts for only one day, it takes months of preparation beginning in November. The event also includes a reflection afterward.
"People don't realize the amount of costs involved," said Caroline Mahoney, Hunger Clean-Up's fundraising chair and a sophomore in the College of Arts & Sciences. "I look for sponsors in Milwaukee because locality is a staple of our mission. Hunger Clean-Up acts like a middle man between the giant Milwaukee corporations and the non-profits we give grants to."
Hunger Clean-Up's top sponsors this year are the Milwaukee Brewers, Sodexo, US Bank, MGIC Mortgage Insurance and PricewaterhouseCoopers.
Inspired by the national Hunger Clean Up organization, Marquette students opened their own group 25 years ago before expanding to what it is today.
"We really want (the Day of Service) to spark student interest in the Milwaukee community," Schiestle said. "We want to pop the 'Marquette bubble' where students spend all of their time on campus and think of it as separate from the rest of the city."
Leave a Comment