"Jesus Christ Superstar" comes to the Big Red Church
Tuesday night's rehearsal for "Jesus Christ Superstar" started like any other. Chorus members took their seats in Calvary Presbyterian Church near Straz Tower and began singing between sips of coffee and small talk. Lead actors glanced over their lines and traded off the microphone, working on songs and music for the show, opening Friday.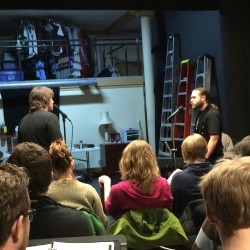 Ryan Charles sang the ballad "Gethsemane" with the confidence of any experienced actor, especially one portraying the Son of God. Tommy Hahn, who plays Judas, came in singing by trading off microphones with Alison Forbes, playing Mary Magdalene, while she jokingly gave him the middle finger.
"You know this is about the Bible, right?" Hahn said.
The In Tandem Theatre Company, located on the side of Calvary Presbyterian Church, also called The Big Red Church, is presenting the legendary opera Friday through Sunday in the church's sanctuary. While Sunday's performance is already sold out, tickets for the remaining shows are available for $25.
"'Jesus Christ Superstar' is unique because you get to see a very different side of a very traditional story," Charles said. "Some people get offended by the show. But it's the power of theater. It gets you to think. You have to have an open mind."
"Jesus Christ Superstar" took over Broadway in the 1970s with an unconventional approach to a Biblical tale. It tells the life of Jesus through the eyes of Judas, one of his disciples who later betrays him. But Charles and Hahn said there is a deeper story to be told.
"You see it right away in the first number, 'Heaven On Their Minds,' how Judas is feeling," Hahn said. "It's more about their friendship and how (Jesus and Judas) are trying and struggling to understand each other."
"I feel the strongest betrayal is between two people who love and care for each other," Charles said. "I enjoy the underlying story in this production. You get to hear Jesus' and Judas' thoughts, doubts and minds. Judas isn't the bad guy in the story. He's just misunderstood and this version of the story really shows you that."
Hahn and Charles met four years ago through In Tandem Theatre, where they played Jesus and Judas, respectively, for the 2010 production of "Jesus Christ Superstar." In total, they have been part of this show eight times, including the two at In Tandem Theatre.
"Since we are good friends and have worked on this show together multiple times in the past, it really contributes to the chemistry we have on stage," Charles said. Both of our characters are pretty heavy roles to take on, but when we're on stage, I can look at him as my friend and use that to make the performance more genuine."
The actors' respect for each other is evident during their rehearsals, where they pat each other on the back and shout supportive "Woos" whenever the other hits a strong note.
The cast and crew had only five days to put the entire production together, which is why having committed and experienced performers is key for the production's success.
"It is a fundraiser for In Tandem Theatre since we are a nonprofit," said Chris Flieller, who plays Pontius Pilate and serves as artistic director of In Tandem Theatre. "It is a combined effort of actors and people from all over Milwaukee who are graciously donating their time and talent."
Almost all of the cast and crew are returning actors and crew members who have worked in past productions together at the In Tandem Theatre.
"Theater is a small network, especially in Milwaukee," Charles said. "Once you're in, you're in."
"It's nice to be able to bring skills back and see ourselves grow as actors every time we come back," Hahn said. "The show is a lot of fun. I like to say being a part of productions like this is like going out and doing donuts with your friends or going on a joyride. It's just fun."
"Jesus Christ Superstar" is In Tandem Theatre's third production of the year. After it closes, the production team will cast and begin working on its fourth and final show of the season, "1959 Pink Thunderbird."
"We love In Tandem Theatre, and we believe in what they do and how they help actors especially in Milwaukee," Charles said. "It's why we keep coming back to do this performance, because we get to work with talented people. Plus, every time I do this role, I find something new in the story and in my lines that I never noticed before that I get to perfect."
In Tandem Theatre has developed a close connection with Marquette's theater department throughout the years. Flieller's wife, Jane Flieller, the managing director of In Tandem Theatre, directed Marquette's presentation of "Dirty Rotten Scoundrels" last October.
"We're really passionate about what we do here," Chris Flieller said. "And being right by Marquette's campus makes it easy for students to come and watch our shows. We even work with the Marquette theater and have had students come over and act in our shows."
That passion is evident in the energy and talent displayed during rehearsals, and the actors anticipate a promising show this weekend.
"It's really a fantastic theater, especially for 'Jesus Christ Superstar,' where we get to use the sanctuary in the church," Charles said. "It just shows that you can really find great theater productions in this town anywhere. It's literally right across the bridge from Marquette's campus. I think anyone who likes Jesus, rock and theater is going to really enjoy this show."
Leave a Comment