Newly appointed Gesu pastor plans to expand parish outreach
Hang on for a minute...we're trying to find some more stories you might like.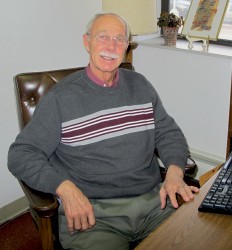 Newly appointed pastor for the Gesu Parish, the Rev. John Schlegel, said he plans to integrate the church's mission to the Milwaukee community once he assumes his leadership role June 22.
"You will definitely see a very courageous and aggressive outreach," Schlegel said.
In light of Pope Francis' call for evangelism, Schlegel said he would like to see a partnership develop between Gesu and an institution in the community similar to the partnership between the parish and the St. Jude Parish in Haiti.
To do this, Schlegel said he hopes to have Marquette students take more active roles in running the parish, including contributing to the church's standing committees. He also noted that communication students could be involved with the parish's outreach efforts.
"What a great resource we have — a 12,000 person university," Schlegel said. "I really want to engage the professionalism of Marquette."
Schlegel's appointment was announced Sunday in a letter from the Rev. Thomas Lawler, provincial of the Society of Jesus' Wisconsin Province.
"I am confident that you will welcome your new pastor and associate pastor this coming summer," Lawler said in the letter. "I am also confident that they, along with the entire parish staff, will provide the kind of pastoral care and leadership which is desired by the parish at this time."
Despite 50 years serving as a Jesuit, this is a new type of position for Schlegel, who is used to more administrative roles at different institutions. He previously served as university president for the University of San Francisco and Creighton University, as well as dean of the College of Arts & Sciences at Marquette. He also served as the president and publisher of America Magazine out of New York City.
In addition to Schlegel's appointment, Lawler also announced in the letter that the Rev. Robert (Roc) O'Connor will return to Gesu Parish to serve as associate pastor after serving as rector of Creighton University's Jesuit community. O'Connor, a published liturgical music composer, worked closely with Schlegel for many years at Creighton.
John O'Brien, Gesu Parish administrator and executive director of operations, said the decision to bring in two Jesuits to the community came as a pleasant surprise.
"I feel very blessed," O'Brien said. "This is a tremendous commitment from the province."
Both positions, which are slated to take effect in the summer, were approved by Milwaukee Archbishop Jerome Listecki. The appointments come after months of searching for a permanent pastor to fill the interim position held by the Rev. Edward Mathie since August. Mathie took up the interim role after the Rev. Karl Voelker left the position to join the St. Camillus Jesuit retirement community.
The selection process included parishioner listening sessions to discuss what Gesu parishioners wanted from their new pastor. The feedback was compiled and sent to Lawler for review in December.
In addition to further Gesu outreach, Schlegel also said he is passionate about increasing diversity in the parish and empowering women in the community.
"As a downtown parish, we can be a little more diverse on any given Sunday morning," Schlegel said.
Still, he noted that the push needs to focus on expanding the mission espoused by the pope.
"We want to grow the parish, but numbers aren't everything," he said. "We want to grow in both quality and quantity. We want to make it more participatory and a little more aggressive."
Correction: Originally this article said the positions filled by the Rev. John Schlegel and the Rev. Robert O'Connor were waiting approval by Archbishop Jerome Listecki when in fact they had already been approved by the archbishop. The Tribune regrets this error.