NOWAK: McConaughey's Oscar speech stands out from rest
More than 43.7 million people saw something worthwhile at the 86th annual Academy Awards Sunday night.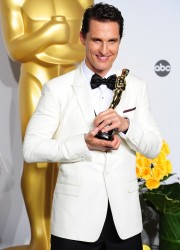 I'm not talking about Ellen's two-minute long selfie. Or the "impromptu" pizza party with a random delivery guy giving some slices to Meryl Streep and Brad Pitt handing out paper plates. Or the uncountable introduction slip-ups, most notably from John Travolta, who must have had a deal with Slate to take over the Internet with its Travoltify app after butchering Idina Menzel's name.
If I'm being perfectly honest, every part of the Oscars that took over social media came off as awkward or dull during the live broadcast. After perking up momentarily for Lupita Nyong'o's precious acceptance speech for Best Supporting Actress, my eyes slipped back down to the witty comments on my Twitter feed for the majority of the show.
Then, Matthew McConaughey took the stage.
He must have had some idea that he would win the award for Best Lead Actor for his performance in "Dallas Buyers Club." His speech was too perfectly formatted, his word choices too meticulous to just slip out of his mouth in the heat of the moment. Yet, it lacked the stereotypical spectacle — complete with waterworks — most actors employ for theatrical effect. It made a statement. Granted, McConaughey didn't pull a Marlon Brando and send a spokesperson to make a political statement about Hollywood's flaws in representation. But in three minutes, he inspired viewers to embrace their beliefs and pursue their dreams in the least cliche way possible. 
The first person McConaughey thanked was God. That in itself is a fairly bold statement, but only because mainstream media turned it into one.
In a culture that is widely accepting of different beliefs and views, religion is often cast aside as unimportant. None of the other Oscar winners thanked any religious figure, and when McConaughey said, "When you've got God, you've got a friend," a pitiful applause scattered through the crowd. If Hollywood is so eager to glorify the sex scandals that appear on the cover of every tabloid, why does it hesitate to applaud the deity of a religion more than 75 percent of the country believes in?
The topic obviously meant a great deal to McConaughey since he said God was the person he most "looked up to." Even if the celebrities in attendance do not profess a religion, the least they could have done was show respect for that significant part of his life.
The self-made ignorance of God and religion has plagued the entertainment industry for years and shows no signs of subsiding. But celebrities should at least show some professional courtesy when faced with a topic that may make them uncomfortable. And the McConaugheys of the world should not let this passive aggressive push-back prevent them from voicing their beliefs.
But God wasn't the only big name McConaughey brought up; he also talked about his hero – himself. What could have been a conceited plug actually turned out to be a powerful statement about striving to turn dreams into a reality.
He told the audience about a conversation with "a very important person in my life" who asked him who his hero was. He later realized that no matter how old he is, his hero will always be himself in 10 years. He admitted he can never achieve this ideal, but continues to chase a better version of his current self because it gives him something to work toward.
Calling yourself your own hero is an interesting idea, even an off-putting one for some. How can we know that our future selves will even be people worth emulating? What if we make a dire mistake that changes the course of our lives for the worse?
All speculation aside, the intent behind McConaughey's message is actually a valid idea. Too often, we set ideals or goals that we convince ourselves must be achieved, regardless of our own abilities to reach them. If we fail to meet them because the bar is set too high, disappointment prevents us from trying again. If we eventually reach those high standards, we are at a loss for what to do next. Viewing a future "you" as your own hero may seem arrogant on the surface, but it turns dreams into pursuable ambitions while still provide something to work toward.
Most acceptance speeches turn out to be scripted plugs for other celebrities or productions, which ends up benefitting the audience members more than the viewers at home. But McConaughey made the most of his brief time on stage to share his viewpoints on a public platform and inspire people, whether he meant to or not, in a way overlooked by most Academy Award winners.
That deserves to be more widely shared on Twitter than a selfie with a bunch of random celebrities.