Committee considering ways to improve minorities' experience on campus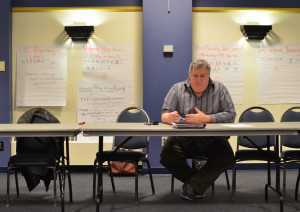 The Committee on Diversity and Equity hosted the last of three listening sessions Wednesday to brainstorm ways to help minority students and faculty feel more a part of the university.
The 12 attendees analyzed student and faculty hiring practices, institutional tracking, DPS Reporting and general student and faculty support. The first two listening sessions gathered information from faculty and students, respectively.
"Our committee is purely advisory," said Jean Grow, chair of the committee and associate professor of strategic communication. "We have no authority; however, I like to think of our committee as a dog with a bone. And we won't let go of the bone."
Grow said it will take an institutional commitment to move forward.
"We fully realize that, financially, these are difficult times, but to address (diversity) issues we need the support of staff, whether it's hiring new faculty or implementing new programs — those things cost money," Grow said.
She expects good things to come from the sessions, though it will take a long time to implement them.
"(The committee) plans to share all of (their findings) with Provost (Margaret Callahan). She is aware that we run these sessions and she's enthuastic about them," Grow said. "We are aware that the provost is looking into doing a university climate study, so we want (our work) to dove-tail with that."
The committee also talked about the lack of religious diversity in the faculty mentor program to help integrate them into university life. The program's religious teachings focus on Jesuit pedagogy.
"Faculty who don't identify as Catholics are sometimes feeling excluded," said Ed de St. Aubin, associate professor of psychology and member of the committee.
Grow said the committee members displayed a large amount of passion and dedication.
Leave a Comment