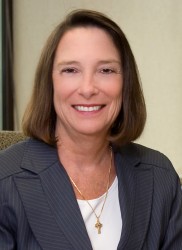 Margaret Callahan is adding yet another responsibility to her growing list of professional duties.
Callahan, interim provost and dean of the College of Nursing, was selected by the Department of Health and Human Services to serve on a team tasked with improving professional education and training related to pain. This new position comes in addition to her two other university positions.
"I have always believed that service to others is an important part of my life," Callahan said in an email. "This is a committee position that I can easily manage along with my responsibilities of interim provost and dean (of the) College of Nursing. Most of the work will be done via conference calls."
Callahan said she was nominated by her professional organization, the American Association of Nurse Anesthetists, for her previous work in pain management and education in anesthesiology. According to a university news brief, the working group created by the HHS is charged with establishing a standardized curriculum to understand pain and have it be recognized as a core part of graduate-level health education, as well as ensuring that pain knowledge is a standard part of licensure examinations.
The group will focus on the study of chronic pain and pain management, a topic Callahan said she is passionate about.
"Too many individuals suffer from chronic pain that is often very complex and difficult to manage," Callahan said. "All health professionals need additional education in order to provide the best possible patient care to the greatest number of individuals."
Callahan is considered a national leader in the study of pain, palliative care and nurse anesthesia, according to the university website.
Lynn Sheka, the associate director of university communication, said in an email that the university is "thrilled at Dr. Callahan's invitation to be a part of the Health and Human Services' national plan to combat chronic pain in America."
"This great honor demonstrates Dr. Callahan's commitment to the Jesuit teacher-scholar method and her relentless pursuit of excellence – as the (number two) leader of Marquette, as dean of the College of Nursing and as leader in her academic field," Sheka said.
Callahan directed the Nurse Anesthesia program at Rush University prior to becoming dean of the nursing college at Marquette. She also implemented Marquette's doctor of nursing practice program and led the university in revising the college vision, mission and strategic plan, according to her biography on the university website.
According to the U.S. News and World Report, the Marquette graduate nursing program is ranked 44th out of 442 schools.
Marilyn Frenn, a professor in the College of Nursing, said she considers it a "mark of excellence" for the university to have one of its leaders recognized for her expertise.
"This is a really important Work Group," Frenn said in an email, "because pain adversely affects so many people and contributes to high health care costs and lost days from work. Training health care providers to better manage pain is especially important when we see how pain medications can adversely affect people taking medications for other conditions, such as anxiety."
The decision to create a working group focused on the study of pain stems from a 2011 Institute of Medicine report, which found chronic pain costs the United States $635 billion each year in medical expenses and lost productivity. The IOM report  recommended the HHS to redesign professional education to address the major gaps in knowledge related to chronic pain.
The group will meet for 18 months in an attempt to accomplish its goals.
Story continues below advertisement