KILLIAN: U.S. Hockey uniting the nation once more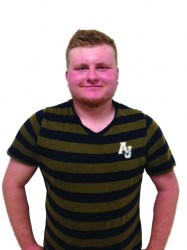 Whether Saturday morning was the first hockey game you've ever seen or the 1,000th, it could end up being one of the best you'll ever see. That is, unless, Friday's semifinal game against Canada lives up to the hype. 

The United States' 3-2 shootout win against Russia in pool play captured national interest like never before through social media.
St. Louis Blues forward T.J. Oshie, became an American hero in a matter of minutes, and his deflection of the "hero" title out of respect for service men and women made him that much more of a role model.
The U.S. rewarded its old and newfound fans with wins over Slovenia Sunday and the Czech Republic Wednesday. But Friday provides an opportunity for something truly special.
Hockey is Canada's game—a claim Canadians have every right to make. But the sport holds its own unforgettable spot in American history.
The 'Miracle on Ice,' when the U.S. beat the Soviet Union in the 1980 Winter Olympics, is often considered the single greatest moment in U.S. sports history. It brought the country together during a time when victory on the ice meant much more off it, and it became a source of national pride for years to come. Not to mention that 23 of the NHL's 30 teams call the U.S. home.
Every U.S. hockey fan who watched 2010's gold medal match against Canada remembers the elation of Zach Parise's game-tying goal with 24.4 seconds left in regulation.  
Unfortunately, it's the memory of Canada's chosen one, Sidney Crosby, scoring the game-winner in overtime that has stayed most poignant four years later.

It was a great moment for Canada to take home gold in front of a home crowd, but that heartwarming element isn't possible this time. The host country was already eliminated from medal contention by Finland Wednesday, ending a catastrophic campaign by a talented Russian squad.
The 2014 Russian team was like the 2004 U.S. Olympic basketball squad. Both offered star-studded lineups featuring the greatest players in world, but failed miserably to live up to expectations.
Russia exiting so early has admittedly sucked a lot of energy out of the games, but the Canada-U.S. matchup alone could be more than enough to make up for it.
There's no cold war between Canada and the U.S., but that doesn't mean a U.S. victory wouldn't carry massive implications.
For a new generation of American hockey fans and a sport that still sits on the fringe of American professional athletics, Friday could allow hockey to again showcase its ability to unite the nation.