Heaven's Basement rocks out in new "Filthy Empire"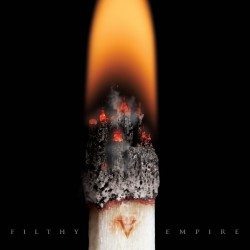 British hard rock band Heaven's Basement unleashed a new level of energy on its latest album, "Filthy Empire." From raw lyrics to intense instrumentals, Heaven's Basement channels the music people moshed to in the '80s and '90s and revitalizes it for today's hard rockers.
Heaven's Basement's addicting energy and ability to incorporate an '80s rock style caused it to have overwhelming success in the U.K. For the past two years, the four musicians toured with artists and bands, like Bon Jovi, Papa Roach, Thunder, Blind Melon and Buckcherry, to name a few.  They recently gained popularity in the U.S. and Canada by touring with rock groups The Pretty Reckless and Louna.
"Filthy Empire" is the band's debut album since they signed to Red Bull Records in 2011, and like the group's previous music, it is not for the faint of heart. The members are not afraid of including swear words in just about all of their songs, especially in "Heartbreaking Son of a B*tch," where lead vocalist Aaron Buchanan describes a twisted journey through all the hearts he has broken.
The 12-song album has a raw energy that explodes in your ears right away in its opening song, "Welcome Home." Buchanan's impressive wide vocal range brings this song to life. He is able to balance the raunchiness of hard rock as well as a gentler touch on parts in the chorus. The adrenaline rush continues in the second song, "Fire, Fire," which suggests having a torch and gasoline in hand while drummer Chris Rivers thrashes out the song with a heavy beat. "Fire, Fire" was the first single released for "Filthy Empire" and is considered the official anthem, setting the tone for the album. Based on the reception from fans and critics, the song could very well turn into the band's most popular hit. 

Although the album begins with high energy and continues into songs like "Lights Out In London," there is a pleasant change in pace as the energy  settles. "Filthy Empire" smoothly transitions from crazy, head banging songs to more mellow pieces like "Be Somebody" and "The Price We Pay." It is through these passionate songs that Buchanan's vocal range is most evident, while guitarist Sid Glover's skillful guitar playing stands out and dominates the entire song.
Of course, Heaven's Basement wouldn't be a true hard rock band if it ended the album on quiet note, which is why "Executioner's Day" is the perfect finish. As one of the first songs Heaven's Basement wrote for this album, it is definitely one of their strongest and most aggressive pieces. The song cranks the sound up to full volume and brings back that hardcore energy from the start. The album closes with Buchanan singing, "Is this how it ends? I'm just waiting for the executioner's day," leaving all Heaven's Basement fans praying that the band's execution day isn't anytime soon.  

Leave a Comment