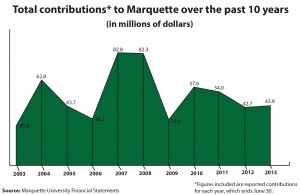 After former University President the Rev. Scott Pilarz expressed doubts about his fundraising abilities following his resignation, the presidential search committee will focus on fundraising skills as an integral criterion for the job.
The committee met Monday, Jan. 20 to discuss its narrowing pool of candidates. William Cullinan, dean of the College of Health Sciences and member of the presidential search committee, said in an email that fundraising is "nearly always a factor in attracting a university president, though one of many criteria."
A study done in 2012 by the Council of Independent Colleges cites fundraising as one of private university presidents' most time-consuming tasks. About 82 percent of presidents surveyed from private universities ranked fundraising above every other responsibility.
Pilarz mentioned fundraising in his September resignation letter to students.
"First, I believe that Marquette needs a president who is willing to commit to working wholeheartedly on a comprehensive capital campaign over a five to seven year period," he said in the letter. "Given my other hopes and desires, I am not in a position to do that now."
Marilyn Frenn, chairwoman of the University Academic Senate, said Interim University President the Rev. Robert A. Wild did particularly well with fundraising during his time in office preceding Pilarz.
"I do know that there were long lines of donors waiting to shake Fr. Wild's hand at the President's Picnic each year," Frenn said in an email. "And those who have donated to Marquette have told me they liked him."
The Tribune reported in 2010 that Wild raised $725 million during his previous tenure as president of Marquette, and was praised for garnering unprecedented financial contributions from donors.
Pilarz had a much shorter tenure as president, though he did oversee the completion of the new dentistry building on campus after raising enough to complete the $16 million project.
Pilarz was lauded for his fundraising achievements at the University of Scranton in Pennsylvania, which even named a building after him.
"Father Pilarz's list of achievements at Scranton is extensive – reaching from the unprecedented fundraising success (of) the Pride, Passion, Promise Campaign to enhancing the University's reputation on a national stage to transformational capital projects on campus," a Scranton press release said in November 2011.
The new presidential position description specifically requires fundraising skills, which states the new president must be able to "expand the university's resources, in particular through philanthropy by serving in a prominent role of cultivating and soliciting donors, as well as providing leadership in the largest comprehensive campaign in Marquette's history."
According to data from a Delta Cost Project report on university spending, private universities like Marquette rely more heavily on financial gifts from donors than any other form of income.

The university received $44 million in contributions in fiscal year 2013, which is a $4 million increase from the previous year. Despite the increase, however, this year's contribution is considerably lower than the $57 million given to the school in FY2010.
Still, Frenn wanted point to out one thing: Fundraising is not everything.
"Fundraising is important," she said, "but certainly not the only characteristic essential for a university president to be successful."
Story continues below advertisement