The LIMO Experience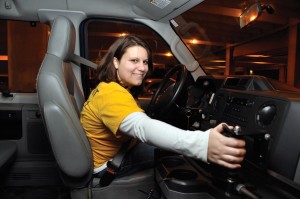 Since its inception 24 years ago, the Marquette LIMOs have transported more than six million students, with nearly 300,000 last year alone. With such an extensive track record, every student has at least one memorable experience in those wonderfully cramped, blue vans. From drive-thru excursions to drunken sing-alongs, here are some of the most noteworthy Marquette LIMO encounters.
The LIMO falls
Students often slip getting in and out of LIMOs, especially in icy winter weather, or at 2 a.m. on a Saturday night, making it the most common mishap. Other times, an impatient driver hits the gas before students even sit down, causing them to topple forward on top of a total stranger. Marquee heard countless stories of students tripping, falling and toppling over, but one from Joey Betori, a junior in the College of Arts & Sciences, is the most amusing of them all.
"Before the seat belt rule, we managed to get like 20 dudes from (lacrosse) and their gear in (one LIMO) consistently," Betori said. "Then as we were all starting to pile out, my friend stepped on his bag strap and ate it as he was getting out. The second his face hit the pavement, some random guy in front of the Ardmore started throwing eggs at him. I couldn't stop laughing."
LIMO sing-alongs
The beautiful voices of Marquette students can be heard echoing throughout LIMOs if you're lucky enough to have a van full of willing singers. It is always a special moment when one student starts singing the song playing on the radio followed by another in the back who gets his or her friends to join in. Before you know it, you are all belting out Katy Perry's "Roar" together in somewhat harmony. Whether it's chanting "USA" or breaking out classics like "The Wheels on the Bus," singing with a group of random students is one the best bonding moments you can have at Marquette.
"I remember at one party we sang 'Wagon Wheel' like four times," said Jake Weber, a sophomore in the College of Business Administration. "Then we got in a LIMO and lo and behold, 'Wagon Wheel' came on again. Not even having to think about it, everyone in the LIMO started singing. Then when the song was done, we asked our driver to turn off the radio so that we could sing it again."
LIMO Food Service
One of the most requested destinations for LIMO drop-offs is Wells Street, where students gather for a variety of late night food. But every once and a while, one LIMO full of lucky students will ride through the drive-thrus at food establishments off the normal LIMO routes.
"One time my freshman year, we had a chill LIMO driver take us through the drive-thru at McDonalds," Betori said. "We all got shamrock shakes together."
"I once saw an entire LIMO full of kids go through the Taco Bell drive-thru when I was walking home," said Teresa Lipowski, a sophomore in the College of Communication.
Overheard LIMO Conversations
There always seems to be one student who's having a very personal conversation with a friend as the rest of the LIMO riders sit in an entertained silence and listen. If you're looking for good gossip or just want to escape your life and listen about the lives of others, turn off your TV and call a LIMO, where some of the most interesting conversations can be heard.
"One time there were three people on the LIMO together, one dude and two girls," Lipowski said. "Either way, it became pretty clear that the girl who sat next to me was the third wheel when she announced to the whole LIMO that the other guy and girl were currently hooking up in the back. She also told us about the guy's ex-girlfriend who also goes to Marquette. She basically shared his whole life story while he made out with a girl in the back seat."
The Weekend LIMOs
From Monday to Thursday, the LIMOs can be found on their normal routes bringing students to and from class or picking them up from a late night at Raynor. These nights are a little quieter, less crowded and more manageable for LIMO drivers. But once Friday comes around, the LIMOs quickly fill up with eager — and often intoxicated — students on their way to parties and other social events. For some of them, getting to their destination via LIMO is half of the fun.
An anonymous junior in the College of Communications admits, "Me and my friends have shot-gunned plenty of beers in the back the LIMOs. They're pretty quick to kick us out if we get caught. But it makes for an interesting pregame."
"Weekend LIMO rides are (a) whole lot of sloppy," said Cailey Rogers, a sophomore in the College of Health and Sciences, said. "One time I saw this girl drunkenly dancing inside one of the LIMOs and then when she got dropped off on the corner, she instantly laid down right outside the door on the grass. That was one of the better moments."
View Comments (1)