Simple Summit to play Annex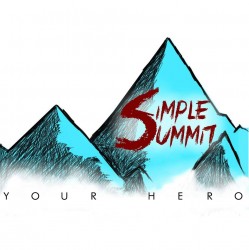 With only 15 public performances under its belt, the trio Simple Summit gained more than 4,000 "likes" on Facebook and won the 2013 Eagle Fest Battle of the Bands at the Annex.
Now, the alternative-rock band will return to the Annex for an acoustic performance at 9 p.m. Saturday, Jan. 25 as a part of the Late Night Marquette activity series.
"We have an interesting sound," said Phill Ghuneim, a freshman in the College of Arts & Sciences and the lead guitarist. "We've been practicing for a long time for this show, so we're excited to finally get onstage and perform."
Ghuneim and lead vocalist Zak Kloes will perform acoustic versions of songs from their album, "Your Hero," including "No Love" and the title track. They also will perform covers of songs by artists like Third Eye Blind, The Lumineers and Anna Nalick.
"When people come to our performance, they can expect great food, a fantastic show and terrible jokes," Kloes said.
"We look at music as much more than sounds," Ghuneim said. "We really want our words to connect with the audience. It's all about good vibes."
The idea of forming a band came in 2011, when Ghuneim started hosting "jamming sessions" at his house for friends.
"Phill brought a bunch of us together in high school to work on their music," said Kloes, a freshman at the University of Wisconsin-Milwaukee. "Although the people that would come to those sessions changed, the music never did."
As the frequency and intensity of the practices increased, Ghuneim noticed the sessions were turning into something more. The group had a lead guitarist, a bass player, a drummer and even back up vocals, but no one to fill the role of lead vocalist. Ghuneim had no idea he would find his lead singer in the most unlikely place.
"I remember I was in the boys' locker room, jokingly singing 'Lonely No More' by Rob Thomas, when Phill came up to me and asked me to join his band," Kloes said. "I was thrown off 'cause I was just fooling around, but I decided to show up to one of their practices and never left."
The band started meeting weekly in an attempt to find its sound, which they admit still changes from time to time. Ghuneim decided to share some of the songs he was working on since eighth grade, and then Kloes said he "knew things were going to get serious."
"Now that things were really on a roll, we wanted a cool sounding name for the group, but we were struggling to pick one that worked," said Ghenuim. "Finally, our piano player recommended that we start calling ourselves Simple Summit, and it just fit. I really liked the idea because it represented like a mountain of success, and we started developing music around the name."
Later that year, the members of Simple Summit finally found themselves out of Ghuneim's house and in a recording studio working on their music. After three years, they released their first album, "Your Hero," in 2013 right before the band took a break, since they were all leaving for college in different areas.
"The group changed up a lot throughout the years, and it was hard to rely on the stability of the band," said Ghuneim. "Any rock 'n' roll band is not the most stable group."
Kloes explained that Simple Summit never actually broke up, but the distance makes it hard for the band to work on music together. Fortunately, Ghuneim and Kloes still live close enough to keep working on their passion.
"We play in different styles, so that we can continue to play music even when were missing people," said Kloes. "Although as a whole were alternative rock, Phill and I are doing acoustic rock right now, because we are the only ones in Milwaukee."
Ghuneim admits that it has been an eventful ride for Simple Summit, but despite changes in sound and band members, the group will continue to focus on its passions for music and performing.
Leave a Comment