Les Aspin names student apartments in honor of founder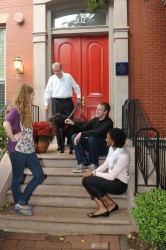 The Les Aspin Center for Government dedicated its student apartment house to its founder and director, the Rev. Timothy J. O'Brien in Washington, D.C. Monday.
Approximately 125 Marquette affiliates and alumni attended the ribbon-cutting ceremony, which renamed the building "O'Brien House" in honor of O'Brien's work developing the program from  a single internship in 1984.
"My thought on the building is that it's not so much about me but the generous people who gave to Marquette and helped kids enter into lives of public service," O'Brien said.
The center provides select Marquette students with internships and study abroad opportunities in Washington, D.C. and Ghana where they work with federal agencies, congressional offices and international leaders.
While attending the center, Marquette students live in the student apartment house, which was owned by Jackie Lewis, a Marquette alumna. Lewis bought the building to financially help O'Brien build the center in Washington, D.C.
"(Lewis) announced at the Aspin Center's 25th anniversary celebration last fall that she was donating the building to Marquette and dedicating the building in honor of O'Brien," said Kathryn Hein, assistant director of the Les Aspin Center's Milwaukee branch.
Rachel MacMaster, a senior in the College of Arts & Sciences and co-chair of the Les Aspin Alumni Council, said she thinks the dedication is the perfect way to celebrate O'Brien's years of service to Marquette.
"I attended the Les Aspin Center in the summer before the 25th anniversary and it was clear to me then that Father O'Brien is as passionate about the center now as he was when he campaigned for its development 25 years ago," MacMaster said.
O'Brien said he wants to continue focusing on Marquette students' enrichment and development through his future work with the center.
"My commitment is to experimental learning and opportunities for students to engage in a complex world," O'Brien said.
In order to study with the Les Aspin Center, students must go through a selective application process that limits attendees to a small amount of serious students.
"It's tempting to enroll lots of people and have the high numbers," O'Brien said. "But I'm about quality and seriousness, and you don't do that by running people through programs."
Les Aspin programs put an emphasis on public service and spiritual development as students work to understand public policy and international exchanges.
"I am so proud to be an alumnus of the Aspin Center; living and working in D.C. was a transformational experience, and it wouldn't have been possible without Father O'Brien," MacMaster said.
Leave a Comment