Mumford & Sons lights up the Marcus Ampitheater
Special to the Tribune
The whiskey drinking, banjo playing, legendary Mumford & Sons exceeded expectations Tuesday night at the Marcus Amphitheater in Milwaukee.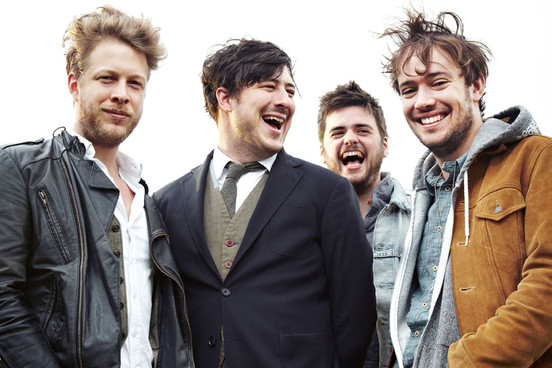 The folk rock band started the concert off strong playing their hit single "Babel," bringing the sold-out arena to its feet, following up with the roaring "Little Lion Man."
Mumford & Sons kept a consistent flow throughout the concert. The band would change tempo after a run of upbeat songs before the crowd's energy blew through the roof. They even had the lights appropriately shining and moving to the pace of the concert, except for "Sigh No More," when the band sang in complete darkness. The black stage allowed the music to speak for itself, until the climax of the song boomed over the audience as lights illuminated the band.
Besides the flashy lights, Mumford & Sons didn't bother with distracting concert antics. Instead, they stayed true to their acoustic style and gave the crowd exactly what they wanted— their music. Yet to appeal to the crowd, the English band added some Wisconsin touches to the show.
The band's typical vests, bowler hats and dust bowl vibe was broken up by banjo player Winston Marshall sporting a vintage Packers Jersey. Between songs, Marcus Mumford took the time to connect with audience in classic Milwaukee fashion.
"Who here is holding a PBR right now?" Mumford asked. "I've shot-gunned many a PBR in my lifetime."
By producing high energy throughout the night, the band was able to make its lesser-known songs, like "Dust Bowl Dance" and "Ghost That We Knew," some of the night's highlights.
Mumford & Sons continued the strong energy and strummed their way into the crowd's hearts. Songs like "Lover of the Light" brought together the harmonizing sounds of an acoustic guitar, thumping of drums and the voices of thousands belting out every word.
They pulled out all of the classics from their last two albums and ended the show with applause so loud it shook the stadium. This led to an unforgettable encore where Mumford came out saying, "Alright you cheese heads." Then blew the crowd away with a Mumford & Sons' rendition of Bruce Springsteen's "I'm On Fire" followed by The Beetles' "Come Together," where they allowed the opening bands, Bear's Den and The Vaccines, to join in the jam session. The show ended with the hit song "The Cave" leaving the crowd wanting more.
"This may have been the best concert I've ever been to," said Mike McKevitt, a sophomore in the College of Engineering. "No wait, it is the best concert I've ever been to."
Leave a Comment