GOODMAN: Art provides different takeaways for everyone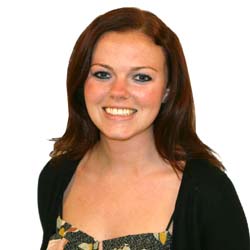 This past weekend I saw the Oscar-nominated film "Silver Linings Playbook," directed by David O. Russell and starring Jennifer Lawrence, Bradley Cooper and Robert De Niro. Prior to seeing the movie, I didn't know much about it other than it starred the woman who had come to be known as Katniss Everdeen and a man who is best known for being hungover.
What I left the theater with, however, was a renewed appreciation for art and people of all kinds and forms.
I'm not going to write a review or spoil the plot for those who haven't gotten a chance to see the film yet, but I do want to talk about what the movie accomplishes.
Yes, the movie addresses the effects childhood can have on the rest of one's life. And yes, it takes a look at depression, bipolar and anxiety disorders in a way that reminds viewers just how real and prevalent mental illness is in today's society. And yes, there may be some funny dancing, longing stares and passionate kisses to please the rom-com lovers out there.
But "Silver Linings Playbook" is more than its plot; its meaning comes from what individual audience members take away from it.
Art in all forms – whether it be film, music, dance, painting or through words – is beautiful because it allows viewers to take away from an experience what they desire and are capable of gaining.
One person could go to the Milwaukee Art Museum and admire a piece of modern art as a masterpiece, while another could see nothing more than three painted metal rods arranged in different directions.
Someone could read Stephen Chbosky's novel "The Perks of Being A Wallflower" and appreciate it for the page-turning plot line, while another might appreciate it for the shared experiences and emotions he or she can draw on from the main character, Charlie.
And someone might favor the beautiful lines and body movements of dancers in a contemporary piece, while another deciphers the message being portrayed behind the movements, as well as the pain and emotions the performers must feel to communicate such a message.
"Silver Linings Playbook" is a piece of art that allows the viewer to understand and connect with it as little or as much as possible without taking away from the film's ability to entertain.
One individual might enjoy the dry humor that comes at times when it would typically be inappropriate to laugh. Another might find hope in the romantic moments that reassure that two people in such difficult situations can eventually find happiness. And even others will connect on a deeper level based on their own experiences, trials and tribulations and find a common understanding of the pain that may be felt during a lifetime.
Audience members' experiences will dictate what they get out of this movie, and either way, it does what it's meant to do: it makes an impact.
Everyone is unique and contributes their own experiences, opinions and knowledge to the world around them. Great works of art play to the originality of the individual so they can strike a chord on something everyone will be able to appreciate and understand. Even if those understandings are different, they provide debate, thought, passion and variety within society.
"Silver Linings Playbook" conveys a meaning that may be different for everyone, but serves as a comforting reminder that although we're all unique and have our own problems, we all also have the ability to find a silver lining.
—
Brooke Goodman is a senior studying journalism and political science. Email brooke.goodman@marquette.edu with anything you'd like to see her write about.
Leave a Comment