MANNO: In small shops vs. big-name chains, go local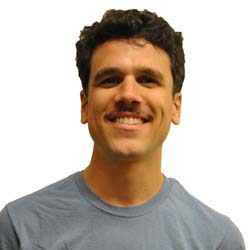 There's a weird old English proverb: "The proof of the pudding is in the eating."
After discovering my post-fall-break bare cupboards a couple days ago, I went out to grab some lunch on Wells. And I saw something, much to my disillusionment: a curling line out of Jimmy John's and just a few waiting at the Pita Brothers food truck across the way.
Soon after, darkness befell campus and frogs rained from the sky.
There's something you need to know about me, Tribune readers: I'll take a Sriracha-and-hummus-laden pocket of joy over pre-divided meat slices any day. I hope some of you share this worldview – I know many do, as Pita Brothers generates a good line every time it's in the neighborhood.
But the sight still made me twitch. How could someone pick a cookie-cutter sandwich in this situation? Injustice! I went home and thought about it a bit. Pita Brothers is fresh, it's healthy, it's "different." And here's the kicker, folks: it costs less!
I'd have been in line, if I hadn't forgotten my wallet in my other pants.
In the day-to-day hustle and bustle, it's often easier to go for what we know. Chains like Jimmy John's provide consistency – the same level of quality, whether high or low, at every one of their stores. But if this is what you're going for each and every time, I think you're missing the idea of the "small business."
A 2008 study by Civic Economics looked at businesses in Grand Rapids, Mich., – grocery stores, restaurants and pharmacies – to compare the impact of local places versus big chains. With restaurants, the results showed 56.1 percent of local shop revenues being pumped back into the city's economy, while chain restaurants fed nearly 20 percent less of their intake into the neighborhood.
Civic Economics has done similar studies in big cities across the country: one in 2007 showed that local bookstores in San Francisco gave 13.3 percent more of their revenues to the city than big boys like Barnes & Noble, and local shops on Magazine Street in New Orleans gave 16 percent more than the average SuperTarget in 2009.
In San Francisco, a 10 percent shift in sales from chains to their local cousins would have generated an additional $191 million in economic activity for the city and created nearly 1,300 jobs. That's a lot of potatoes.
In a place like Milwaukee, I can't see how similar numbers wouldn't exist. This small business facts-and-figures mumbo jumbo is something politicians won't talk about in debates — because it's all up to you, person.
And as you can see, this choice is in no way limited to foodstuffs. I'm especially passionate about local bookstores, having spent the semester last fall going to a dozen for interviews and profiles. Milwaukee has so many great ones, from the floor-to-ceiling Downtown Books to the especially localized Woodland Pattern in Riverwest.
Such stores are run by wonderful people who do a whole lot for their communities both financially and otherwise. They're the ones who make Milwaukee, Milwaukee.
The city is filled to the brim with these shops, from well known favorites to hidden gems. Artists' Friend on Farwell sells handmade jewelry and guitar slides. Lakefront Brewery crafts some tasty beers. Local produce markets pop up throughout the summer. The people who start these businesses care about what they do – they are creative with their craft and give the city some personality.
Don't get me wrong – sometimes the convenience factor of chains is too, er, convenient to pass up. And some do produce quality products – I'll never stop loving Chipotle burritos or choc-on-choc Dunkin' Donuts.
But if you reach a culinary crossroads like the one at 15th and Wells, try the local instead of the chain. Do it at least once if you find yourself out and about this next week – not just to support a true Milwaukee business but also to get some quality stuff. Do it just to break the habit.
Maybe you think I'm full of falafel, and I've been watching too much "Diners, Drive-Ins and Dives" (both are currently true). But the proof of the pudding is in the eating, so judge for yourself — I think you'll be pleasantly surprised.
Leave a Comment