GOODMAN: 'Legen…wait for it…dary' birthdays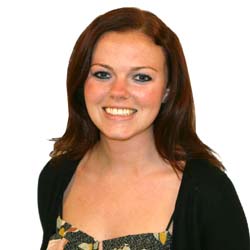 Kids, I'm going to tell you a story. Not just any story, though – a story about birthdays. And not just any birthdays, but the 21st birthdays of the good ole' gang from "How I Met Your Mother"… or at least what I imagine them to have been like.
In light of my coming of age in less than 24 hours, and one of the greatest shows on television celebrating its own eighth birthday on Monday night, it only makes sense to imagine what that glorious rite of passage was like for Ted, Robin, Lily, Marshall and Barney.
Let's start with Ted.
His imaginary birthday is by far the most mundane because all he can focus on is finding a soulmate … and how good he looks in his signature red cowboy boots.
With a miniature Bob Saget sitting on his shoulder, Ted begins the TEDious (punny, right?) search for a mate. Instead of resorting to his tried and true architecture pick-up lines and Shakespearean references, he puts faith in the birthday gods and takes an "older and wiser" route – the, "I'm 21 and can buy you booze now" route.
This approach works for a while until a girl with crazy eyes comes up to him and says three little words … "I. Love. You." This could explain why Ted has an issue with premature expressions of emotion.
After escaping, Ted somehow ends up at MacLaren's.
If Ted's birthday was boring, Robin's is nothing short of … Canadian.
Seeing that the legal drinking age in most Canadian provinces is 19 years old, Robin celebrates her big day two years earlier than the rest of the gang. At a party filled with "Ehs" and famous people only known to Canadians, Scherbatsky embraces her alter ego, Robin Sparkles, and leads a flash mob performance of "Let's Go to the Mall." Seeing that Canadians love their teenage pop stars just as much as their hockey players, Robin is carried out of the party in a moment of victorious elation and somehow also ends up at MacLaren's.
Marshall's 21st is coined by a Minnesota birthday ritual requiring him to eat an entire Eriksen family seven-layer salad made primarily of mayonnaise, Funions, gummi bears and potato chips.
In an effort to take his mind off the storm churning in his stomach, he creates a game for his party guests. In true Marshall fashion, the game is impossible to understand and includes sprinting around his Wesleyan University dorm room, doing star jumps, eating pancakes, chugging milk and surviving a birthday slap. Still, Marshall begins to feel ill from all that mayo and Lily is left to take care of him. Unfortunately, she is too busy eating a giant sandwich to do so, and Marshall ends his night at MacLaren's.
Lily's big day is predictably plagued by Ted's inability to understand the rules of friendship on birthdays. As Marshall serenades her with the "Lily Day" song, Ted bursts in with the original nameless girl, who is obviously "the one." She Who Shall Not Be Named takes the emergence of a camera as a sign to photo bomb, and Lily storms out, only to find herself at, you guessed it – MacLaren's.
Last but certainly not least, there's Barney Stinson. This will be LEGEN … wait for it … DARY, right? False. Barney fills his day with flower power and friendship circles instead of The Bro Code, women and cocktails. Rather than "birthday suiting up," he mopes over how his self-prescribed daddy, Bob Barker, didn't wish him "Happy Birthday." Seeing that this is before Barney "stops being sad and starts being awesome instead," he sings a lament to the tune of "Kumbaya" and walks down the streets of New York City, only to end up at, well, you get the idea. MacLaren's.
At least each of their imaginary birthdays all ended at the same place.
Regardless of how silly and imaginary all of this is – and trust me, I know it has been – one thing still rings true. It's only appropriate that my birthday present to the show is that my own birthday celebration this weekend meets the standard of awesomeness that is "How I Met Your Mother."
Challenge accepted.
Leave a Comment