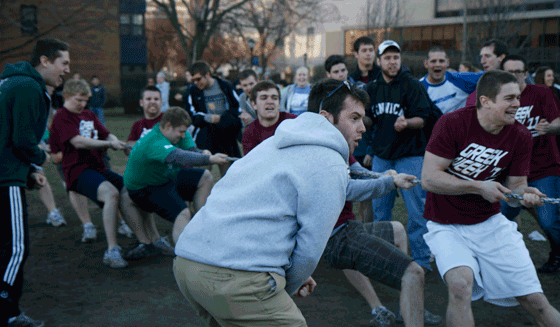 While Marquette may not be known for an Animal House-like Greek scene, the number of fraternity and sorority members has grown 65 percent over the past seven years, according to annual reports published by the Office of Student Development.
Nearly 750 individuals make up the community — a fact particularly visible during this week's Greek Week activities. About 10.4 percent of undergraduates are members of one of campus' eight fraternities or eight sororities, according to OSD figures.
Still, Marquette's percentage of students involved in Greek life pales in comparison to some other universities. For example, the University of Illinois Urbana-Champaign sits at 51 percent, according to a USNews.com ranking.
Since spring 2004, the number of students involved with Greek life at Marquette has gradually risen. The biggest increase came between spring 2005 and spring 2006, when the total number of Greeks grew from 411 to 580.
The number of female students involved with Greek life increased from 11.7 percent of all women undergraduates in 2009 to 13.3 percent in 2010.
Fraternity figures have remained more stable over the seven years, but actually decreased by 10 members from 2009 to 2010.
Marquette's sororities are sanctioned and governed by the National Panhellenic Council, while its fraternities are led by the Interfraternity Council.
Lindsay Swanson, president of Marquette's Panhellenic Association, said she attributed the increased numbers to the work members put into recruitment last year. She recalled when she joined Greek life in 2009, pledge classes were about 20 people, whereas last year each of the sororities was initiating 30 girls.
"(The) numbers can be overwhelming, especially when you're talking about membership increases," said Swanson, a senior in the College of Education.
Margaret Zimmer, primary adviser to the Panhellenic Association at Marquette, said adding a sorority on campus has been considered to accommodate the growing demand. However, it's only a discussion at this point, and a decision has not been made, she said.
Swanson said the council is in the process of contacting regional and national representatives to outline the best course of action. She said Maquette's overall growing enrollment is also being taken into account, and works in its favor.
Regardless of whether or not a new chapter is initiated, Swanson said Marquette's Greek life is headed in the right direction. Not only are numbers increasing,  attitudes toward the system are shifting as well.
"It never ceases to amaze me how many women want to see the Greek community at Marquette continue to change for the better," she said. "They're much more interested in fighting the 'House Bunny' and 'Legally Blonde' stereotype of sororities than they are in perpetuating it."
Among other projects, Swanson said she has been working with the Interfraternity Council to re-work its current Risk Management Policy. This policy outlines the rules for Greek organizations on campus, including such policies as serving alcohol and hosting parties.
Swanson said a factor in changing the policies is the increasing number of students involved in Greek life and the need to keep them all safe.
Story continues below advertisement