DUFAULT: Tight sanctions on Greek Life necessary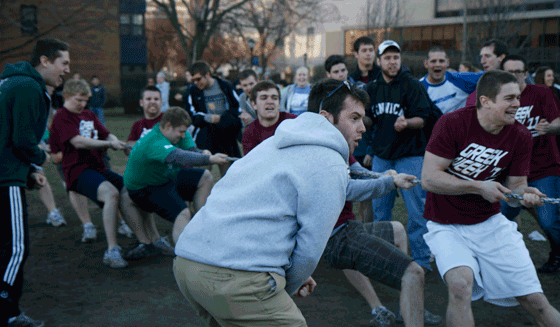 I decided to join Greek life becuase it was an opportunity to expand my network. The fraternity I joined was new, but rapidly growing, so I opted to become an early member. It was a risk. At the time, I didn't know too much about Greek life.
I have heard the horror stories about fraternity hazing, which have even led to members dying. While this is an extreme example, it made me nervous as a future pledge.
I was genuinely surprised when there was no sort of hazing during the pledging process. As soon as I was initiated, however, I understood why the current brothers had such tight rules on topics such as hazing.
Marquette Greek life has a notorious reputation. Multiple suspensions have led to tight sanctions from the university. As a result, Greek life has changed substantially. These new strict sanctions have not gone unnoticed by Marquette Greek life, as chapters have tightened their bylaws and increased their emphasis on member involvement. Marquette has also essentially adopted a zero-tolerance policy amidst the struggles with misbehavior within fraternities and sororities.
While I was slightly disappointed the members didn't at least mess with us a little bit, it was comforting to know that I was joining a group where I would eventually be respected as an actual member. Looking back now, the lack of hazing has made me much more willing to participate in Greek life.
The negative aspects are the reasons why these sanctions exist. It's led me to believe that the most effective way to maintain Greek chapters is through strong, strict rules. For me, it has helped the good aspects of Greek life outweigh the negative ones.
There are a plethora of stereotypes regarding Greek life chapters. Some suggest that members are just looking to party and not much else. Others imply there are really no academic or socially constructive aspects that come from it. In reality, there are plenty of great things about Greek life that are clouded by negative aspects, such as hazing.
New bylaws have ensured that hazing holds no part in the Greek life system. Even one instance of it can lead to a lengthy suspension. This is a positive that has arisen from the new rule. The way my fraternity treated me as a pledge cannot all be attributed to the strict rules Marquette has imposed. There are genuinely good people within this group that wanted to see me succeed and grow as a member.
To understand how Greek life functions is to understand that each batch has their good and bad eggs. I've met wonderful people through Greek life, but also a few not-so-good ones. This is the unfortunate reality of Greek life and why tight sanctions need to exist. The actions of one person can destroy everything a large group of people have built up. However, having tight sanctions ensures that the bad eggs can't have a catastrophic effect on the entire chapter.
Beyond brotherhood, I've seen a heavy emphasis on our fraternity's philanthropy. This is a cause that promotes a common good. Greek chapters support their assigned philanthropy by hosting events that raise money for them.
Each chapter has some form of philanthropy that they attempt to raise as much money for as possible by the end of the year. My fraternity is involved with the Juvenile Diabetes Research Foundation (JDRF). Last year, we hosted multiple events that raised money for the foundation, including a dodgeball tournament.  It's enjoyable to raise money for a good foundation and to have some fun while doing so. It gives me a sense of accomplishment to know that our fraternity is able to make a difference.
So far, being in a fraternity has definitely helped me grow as a person. I've expanded my network, taken part in good causes and come out of my social anxiety shell a bit. I can't deny that Greek life can get unruly, but the good aspects of it prove that it can have a positive presence on campus. All that depends on whether or not the chapter chooses to impose restrictions on its members.
Leave a Comment