For mental health professionals dealing with patients in the day-to-day, the need for immediate strategies to help those struggling with suicide is pressing.
"There is a 50 percent lifetime incident of mental illness," David Baker, an associate professor in the College of Health Sciences and neurology researcher in Marquette's Charles E. Kubly Center said. "That is an incredibly high number that I think surprises most people and there's a very strong link between lack of mental health and risk for suicide."
At Marquette, the Counseling Center and the Active Minds chapter are some of the driving forces behind bringing innovative therapy and outreach to campus.
"We are here to be a voice for the student body and an advocate to the Counseling Center to implement different programs to help students," Michelle Frederick, Active Minds chapter vice president, said.
While some programs are easily-funded, like the therapy dog that is available for students in the Counseling Center a couple days per week, others are highly expensive. And funding is not easy to secure.
Funding was a challenge the Counseling Center encountered recently when it tested student responses to Kognito. The program, a digital simulation that educates users about the warning signs of suicide and how to effectively address the situation, is one option the counseling center has been working to implement.
Nick Jenkins, a counselor and the Counseling Center's mental health advocacy coordinator, said the mental illness stigma often barriers people from getting help through counseling and is why the Counseling Center constantly seeks out new ways to dissipate that stigma and bring students in.
"If there is a way to recognize that we all have mental health (issues) and it's perfectly acceptable and appropriate to seek out help, then that is something we want to do," Jenkins said. "We want to think about the different ways that we can connect to students."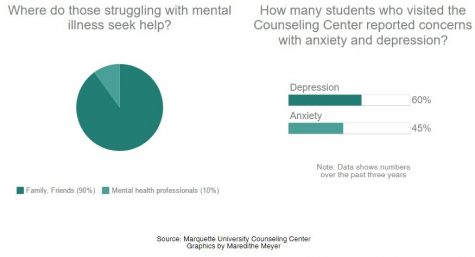 Through a partnership between Active Minds and Kognito, Marquette received a month of free access to the program last September. All students could access the program through a link on a University News Brief email. Only 68 students accessed the program over the month.
Jenkins said interaction is important when considering permanent accessibility for a program that would cost $10,000 per year.
"We always want to ensure that we are providing a service that is effective and utilized (by students)," Jenkins said. "We don't want it to be another thing that we all know is out there but no one is using."
For now, Kognito remains only a hope for the future due to a lack of available funding.
Jenkins said there are other opportunities to seek funding through Marquette, university partners or other supportive donors like the Charles E. Kubly Foundation, another legacy effort by the Kubly family to raise awareness and support local mental health initiatives.
But those funds are not easily granted.
In 2015, the Counseling Center applied for a grant through Marquette's strategic innovation fund to adopt the Integrated Screening Protocol as a campus suicide prevention method. ISP would allow the counseling center to, via email, screen certain groups of students for mental health issues. The targeted group would anonymously complete the screening questionnaire and counselors could then use the platform to respond to at-risk individuals within the group.
"Most universities that use this have gotten a 10-15 percent return rate, which sounds low, but still, it is reaching an audience that maybe we are not currently getting to," Jenkins said.
ISP was not one of the 38 projects selected to receive the grant funding that year, but Jenkins said bringing the service to Marquette through other funding sources is still a future possibility.
Still, ISP's interactive aspect presents yet another possible shortcoming — a shortage of staff.
"We would have to be very diligent (with ISP) because someone from the counseling center would have to monitor and respond back to all those messages," Jenkins said. "Do we even have the capabilities to do that?"
The center has now shifted its focus to obtaining a suicide prevention app students can easily download on their smartphones to use as a reference when faced with the risk of suicidal thoughts or behavior. It resembles Kognito as a digital resource, and it supports the Counseling Center's ongoing, "Question, Persuade, Refer" training by making prevention strategies accessible to everyone.
"If you see someone you're worried about or a friend sends you a concerning text, you can take a look at the app and see if there are warning signs, what resources are available, who you could contact if you needed to," Jenkins said.
Jenkins said a similar app has been used in Texas and that he has reached out to Mental Health America of Texas, a mental health education and advocacy group, and app developers to explore the possibility of modifying it and bringing it to Marquette.
If the cost of the app is reasonable and enough funding becomes available, such an innovation could be ready as early as the fall. But once again, it all depends on the funds.
Until then, Active Minds remains a driving force behind aiding mental health through student support.
"
We are here to be a voice for the student body and an advocate to the Counseling Center to implement different programs to help students.
— Michelle Frederick
"Active Minds has a unique role in that we are not linked to a specific ethnic background, we are not linked to a specific religion," Frederick said. "We are pretty much all-encompassing and all-welcoming for all students."
Its interfaith prayer service last fall peacefully brought together students of all faiths to reflect on campus suicide and ways to prevent it. Active listening booths, the organization's biggest initiative for next year, sets up two students to exchange peer support through listening and advice.
Next year, Active Minds will partner with minority student organizations including BSO, Black Student Council and the Office of Intercultural Engagement to promote acceptance and unity.
"I think the more unified we can be as a community of Marquette, the better mental health we will have on this campus," Frederick said.
This story is part of the Marquette Wire's "Breaking the Silence" series to increase awareness and start dialogue about suicide in college. Read, watch and listen to more coverage here.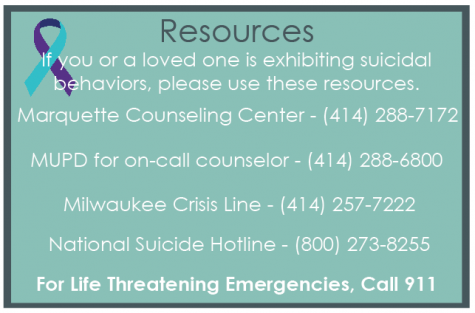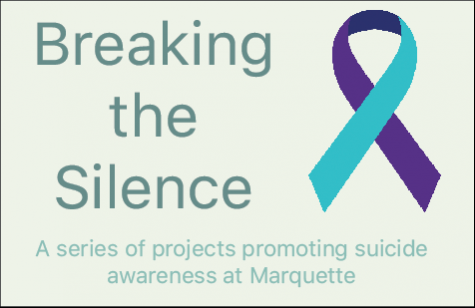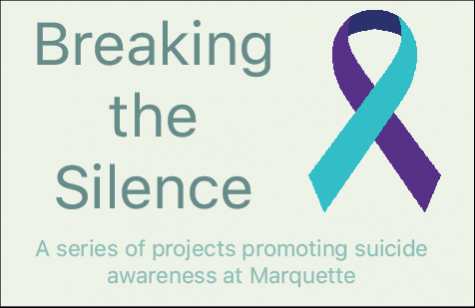 Story continues below advertisement