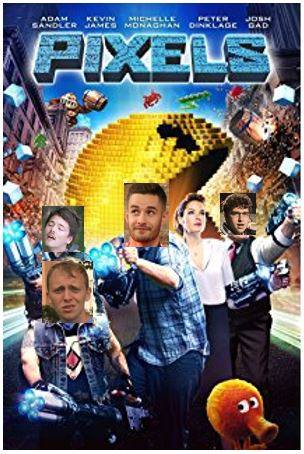 You've been really wanting to know what that latest Adam Sandler Netflix movie is about, right? Or perhaps you've been dying to know what the plotline of the third straight-to-DVD Shrek spin-off is? Well, if you tune in to Marquette Radio Tuesday nights, you'll find some DJs with the same questions. And no, they aren't going to be actually watching these films.
Marquette Radio is proud to present our latest Show of the Week, We Didn't Watch This Movie! The show's hosts, Justin Hauter, Connor Hughes, Dominic Morache and Wesley Richerson, pick a movie each week that none of them have seen. After reading a plot summary of the film available online, the hosts take time to discuss the movie, its actors, the director and go off on various other tangents about the film and the film industry. After the discussion is over, it's the main event: Justin, Connor, Dominic and Wes pick characters from the movie and attempt to recreate scenes they are only guessing appear on screen. As the show's hosts describe it themselves, it's a train wreck in the best and worst ways. So far this semester, they've interpreted Bangkok Dangerous, Pixels, Shrek Forever After, Highlander, Double Team, St. Elmo's Fire, Point Break and Jupiter Ascending. You won't want to miss what they've got in store for the rest of the year.
If you're wanting to keep up with these DJs outside of the studio, you can find Connor lending his hand on the Students Taking Active Roles (STAR) retreat and Justin at Bayanihan Student Organization events and on the MAP trips. Dominic and Wes, on the other hand, are likely to be spending time with their good friends Kevin James and Nicolas Cage during their free time. If real-life interaction isn't your thing, fear not. We Didn't Watch This Movie can be found on Facebook as well.
You can catch We Didn't Watch This Movie Tuesdays from 9:00-10:30 p.m. LIVE on Marquette Radio.