"Music is in their blood" is a phrase that becomes reality for local Milwaukee band, Soul Low. Each member has been involved with music for 15 years. They have surrounded themselves in the arts by playing instruments, going to art school and by just being music fans.
In 2009, the members came together and formed Soul Low. After playing as a band for years, they have put out their sophomore album, "Nosebleeds." After their first record, "UNEASY," they changed up their sound as the band continued to evolve.
Before they got to recording, they had a lull. The band faced writer's block and an identity crisis. They took some time to reflect on musical influences and who they wanted to be as a band, which led to changes in how they wanted be heard through their music. Their usual folk-pop sound has moved aside so their latest work can highlight their jazz background.
"I feel like 'Nosebleeds' was just the natural outcome of that time in the band's life. The jazzy elements, I feel, are just natural sprinkles from our collective jazz background," Sam Gehrke, bass player of Soul Low, explained.
Due to their diverse musical backgrounds and Milwaukee home base, Soul Low has been able to team up with other local artists. To continue to mix up their sound, they teamed up with local rapper Webster X.
Being in cahoots with him put a twist on their indie song "Heard It All Before" by adding his voice to their record. This isn't the only time they have collaborated. They also worked with other musicians as part of Milwaukee's Arte Para Todos, a music festival that raises funds for art education. These experiences allowed them to meet musical influences and really get a taste of the Milwaukee music scene.
Gehrke explained, "We're always looking to explore new outlets of creativity. Luckily, Milwaukee is a great place to explore those different outlets because there's a huge array of talented people who are willing to collaborate and do interesting things."
When talking about the future and what their future albums might sound like, Gehrke said, "We change our tastes every day. A lot of the new record is returning to more pop sensibilities, but even then it's still weird and spastic. We'll just have to see."
Listen to their latest album on Spotify, but also stay tuned to see what more they have to come. Get to know more about Soul Low and their new record from the rest of our interview with Sam Gehrke. Check it out: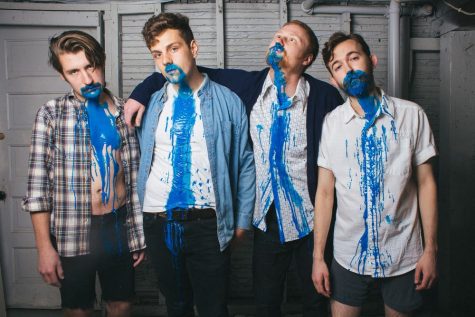 What are your favorite Milwaukee venues and why?
Our favorite bar to play would be Cactus Club. Myself, Jake and Sean are all from Bay View, so it always feels great to play in the neighborhood again (we all currently live in Riverwest). Plus the sound is killer. Our favorite all-ages spot would have to be Turner Hall because it's Turner Hall.
Do you believe in ghosts?
Personally, I do not. However, I would love to be proven wrong. I think the idea of endless spirits existing among us is super interesting.
How do you take your coffee?
Black as heck. And if it's nice out, with ice.
What's the most fun song to play on the album?
Probably "The Adulterer." All of the different parts and the intensity with which they're played make it challenging but super fun to play live. We've been fortunate enough to play the song with a string and horn section from time to time which is always amazing. Sean arranges those parts and the textures he's able to create really fill the song out.
You guys have a sense of humor — "OMG STD" from "Sweet Pea" and a certain line from "Hard to Gage" from "Nosebleeds" come to mind. How do some of these lyrics come about? Are there inside jokes worked into the new album you can tell us about?
Jake's lyrics have a really nice blend of seriousness (see "Tied in Knots") and playfulness. I think that stems from just never wanting to be too terribly serious. Yeah we write some sad songs, but we're not just sad dudes, and I think that's what Jake is trying to reflect.
How was it decided to have the album open with "Frenemies"?
Honestly, we just couldn't hear it in any other part of the album, so it just seemed natural. I think its bare beginning and chaotic ending just make it a really strong opener.
"Finger Bones" is a very weird track: it's reminiscent of slacker rock, it starts so warbly and sparse, and then suddenly it's layered and loud. What is it about?
"Finger Bones" is about texting someone you don't want to talk to. That person could be a significant other, a parent, whoever. The structure of the song came from a demo Jake had where he looped each section ad nauseum. When he brought it to the band, we figured the only natural way to end this slow build was to have it explode at the end, and then fizzle out and fall apart.
If you had a walk-up song, what would it be? An example would be "Voodoo Child" by Jimi Hendrix, which is Hulk Hogan's walk-up song.
Hm, for me personally it would have to be James Brown's "Papa's Got a Brand New Bag." It has the swagger and confidence I can only dream of.
Who in the band would win a thumb wrestling tournament?
Probably Charlie. I feel like he probably has the best grip strength.
What's your guilty pleasure?
I mean, I wouldn't say it's a guilty pleasure, but the new Carly Rae Jepsen record is killer.