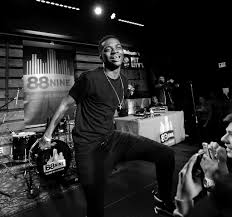 Milwaukee rapper IshDARR has multiple projects to his name at the ripe age of 20. His newest release, the 12 track Broken Hearts and Bankrolls album, was supposed to be the next step in the young star's evolution.
The album is an impressive project, yet feels lacking or repetitive in certain parts. While imperfect, the album still represents an inspiring display of IshDARR's technical ability and artistic judgment, and is an an enjoyable listen for any rap fan.
There is a nice flow to the album, from the clear-eyed, sobering intro track of Crown Ct, Racine to the determined sound on Dumb Playing. Upbeat singles like Sugar and Time Shawty are among the more fun tracks.
IshDARR's ability to dance between flows while churning out lyrics has never been in question, however too often on this project he falls into the trap of repeating his choruses. The rapper's ability to sing his own catchy hooks to bridge his verses has always been one of his best skills, but there are times where a chorus feels repeated one too many times, or that a song is a little lacking in actual rapping. As a result, a song like Bad Four You seems drawn out, and Side Weighs gives the impression there is too much fat that could be trimmed surrounding the verses.
However, to doubt IshDARR's rapping ability would be foolish. All one has to do is listen at around the 1:50 mark in a song like Locals and hear him perfectly cram in syllables over his start-stop flow to recognize what makes him special. Throughout the album he flashes his superb technical abilities, and in the parts where these continue uninterrupted, the head-nodding vibes are undeniable.
Like all IshDARR projects, the production is strong, with Canis Major, Chilly Gonzales, and Derrick Thomas Jr. providing some of the instrumental highlights. At times however, it can feel a little too similar to the hard-hitting beats of his Old Soul Young Spirit project and not enough like the soulful samples of his The Better Life EP. Still, there was never a point where IshDARR doesn't raise his game to keep up with the production.
Even with six of the twelve tracks having been released before this album, Broken Hearts and Bankrolls provided some fresh new music from one of Milwaukee's most important young voices.
While it currently has the fewest Soundcloud streams of all the album tracks, a song like Gone might give the best peek into the talent and potential direction of the still developing artist. After maybe the catchiest hook of any new song on the album, he raps, "Excuse my tone but man this what they waiting for, let me button my shirt then I fold my cuff, still digging in the dirt and finding diamonds in the rough," in his familiar flow, punctuating what is likely the best mix of chorus and verse on the project.
The quality of his music is reflected through fans' receptions to the new album,
Antonio Beasley, a sophomore in the College of Communication and Milwaukee native, was excited for the new music.
"I think it's a step forward for him. It's also cool to hear him keeping true to his own unique style, and showing how much growing up in Milwaukee means to him," Beasley said.
Colin Eschweiler, a sophomore in the College of Business Administration, also liked IshDARR's local shoutouts.
"I'm not from around here, but it's still cool to see one of the best young rappers be from Milwaukee and be succeeding like this. He's gaining a lot of fans," Eschweiler said.
With the underrated ability to create both his own verses and the melodies between them, IshDARR experiments with his sound, mostly successfully, on Broken Hearts and Bankrolls. Where he goes from here is up to him, but if he continues to harness both skills at this pace, the sky might be the limit for the prideful kid from the 414.