Waiver allowed Anderson to play immediately after transfer
Freshman recorded first win at MU this weekend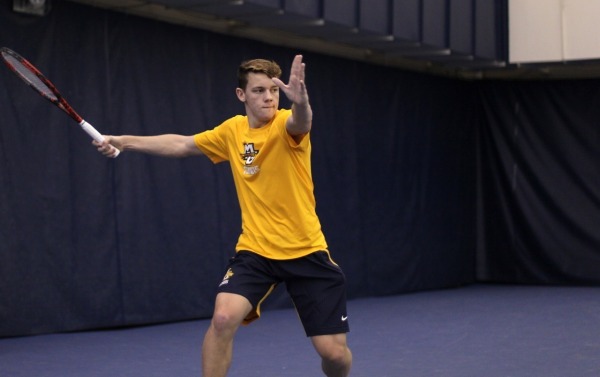 Hang on for a minute...we're trying to find some more stories you might like.
When the men's tennis team ended their warmups before the first match of the season, freshman transfer Greg Anderson realized something. He had no clue where to go next. He leaned over to his teammate Andre Romanello and asked when and where lineups would be introduced.
For the majority of the team, the lineup introductions are an afterthought, but for Anderson it represents one more thing he has had to learn since coming to Marquette at the beginning of this semester from Texas Christian University.
Anderson's work ethic and competitive drive has already impressed his teammates and coaches in the few weeks he has spent at Marquette.
"He is a really hard worker," senior Daniel Fernandez said. "I was really impressed with his commitment."
For Anderson, competing and giving his all is nothing new. Marquette brings a newfound appreciation.
At first, TCU seemed like the perfect fit for Anderson. He would be able to play tennis in the Big 12, one of the best tennis conferences in the country and play for David Roditi, whom he has known since he was 12 years old.
He came to realize that TCU might have been the wrong choice for him.
Last September, TCU signed two top recruits, and Anderson saw his playing time decrease, diminishing the thrill of competition he thrives on.
NCAA rules allow tennis players to transfer after semester but they are only allowed to play for one team during an academic year unless an exception waiver is accepted. For Anderson, transferring was a risk — no waiver meant having to sit out the entire spring season. Making matters even more complicated, he had just under a month to take his official visits and make a life-altering decision.
Marquette head coach Steve Rodecap had seen Anderson play during summer 2015 and has a long-standing friendship with Roditi, allowing him to get trustworthy analysis of Anderson's play.
Anderson had played in several tournaments in Michigan and Illinois and thought the Midwest might be a good place to go to school.  He also considered Purdue and Xavier. After finishing finals at TCU, Anderson began his tour of official visits.
"I think I traveled for around fifteen hours in total," Anderson said. "It was a lot. My flight schedule was absurd."
When he was finally home, the Arizona native spent the next three days on the couch doing some much needed relaxing before weighing his options with his parents and close friends.
"My mom and dad gave me the best advice," Anderson said. "They stressed that this was my decision and that in the end I would choose what is best for me because I know what is best for me."
During his visit to Marquette, Anderson fell in love with Milwaukee and Marquette's location in the city.
"To be honest I wasn't sure I was making the right decision," Anderson said. "I did a lot of research on the schools and I knew Marquette had a really good business school and that was really important to me. In addition, they have a really good (tennis) program here."
When Anderson arrived on campus, he was welcomed with open arms.
"You are a bit of an outsider when you come in (mid-year)," said Mackenzie Stearns, the last Marquette tennis player to transfer mid-year. "I've tried to be welcoming and let him know the ropes."
As Anderson began to adjust to life at Marquette, his playing fate still hung in the balance. The waiver had been filed to the NCAA to let him play, but it was still uncertain if it would pass. Jan. 21 brought good news — he would be eligible to play this season.
"Transferring mid-year, I knew there was a small chance I could play," Anderson said. "The fact that I got it was pretty cool."
In Marquette's match last Friday against South Dakota State, Anderson got his first action and win of the season 7-5, 6-1.
"Greg is going to be a big help to us this year," Rodecap said after the match.
Just a few weeks into the semester, it is clear to Anderson that he made the right choice.
"I love it here. I would not have been mad if I decided to go here as a freshman," he said. "I like it way more than TCU. I have to appreciate every day because the fact that I am here is pretty special."