One last dance: Van Kleunen runs it back with Golden Eagles
A half hour before Marquette women's basketball media day Oct. 27, the atmosphere at practice was loud and competitive as the Golden Eagles went through transition offense and conditioning.
But a familiar face on the court was missing: graduate student forward Lauren Van Kleunen. 
Van Kleunen was instead seen coaching her teammates from the sidelines, a role that the Mason, Ohio native has been tasked with more in her final season. 
"I pushed her a little bit to say, 'hey, you know this, you know what we're talking about. Don't stand back or either wait for us to say it, you do it before we have to get there,'" assistant coach Justine Raterman said. 
Van Kleunen's decision to stay at Marquette for a sixth season, due to the NCAA giving an extra-year of eligibility to all athletes due to COVID-19, provides stability for a still-young Marquette team.
"She's been there. She understands so many things within a career, when you're at the top of the top, when you're at the bottom trying to work your way up," head coach Megan Duffy said. "She has a wealth of knowledge that will immediately impact not only our transfers but even a couple players that are moving into new roles as well."
Redshirt junior forward Chloe Marotta said she was ecstatic when she found out Van Kleunen was returning. 
"As a teammate, I was so incredibly happy that she decided to come back this year, because, selfishly, I love her as a teammate and could have (her) around for a very long time," Marotta said. 
Raterman said Van Kleunen's return is huge to what the Golden Eagles are trying to do as a program. 
"She's such a competitor in everything that she does. For our young (players), to see her and the way that she works, the way that she carries herself with confidence but yet is coming in to get after it every single day," Raterman said. "It's huge to have someone like that, that they can learn from just by watching it's everything for our younger players."
Like Raterman, Marotta said getting to watch Van Kleunen is a bonus. 
"As someone who has so much experience in college basketball, it's nice to watch her and see kind of what her actions are like because we all want to learn from that and kind of embody what she's about," Marotta said. 
Redshirt first-year forward Liza Karlen told the Marquette Wire in January she has never seen a player with the IQ Van Kleunen has. 
"Just in the sense that she's always positive, she's always working and I think we can relate to that a lot," Karlen said. "She is consistently a great leader for us and she's never negative. It's been great for me to pick her brain a little bit and add to my game through studying hers." 
While Raterman pushed her forward to serve in more of a coach's role as a sixth-year, Van Kleunen said she is embracing this new role as she wants to be a coach in the future.  
"I definitely enjoy coaching them, I wouldn't necessarily say it's a coaching role I'm trying to get into, but just any way I can help or any way I'm able to pass on my experience of helping," Van Kleunen said. "Just passing on that advice I think is huge because I had that when I was younger." 
Transfers Karissa McLaughlin and Kennedi Myles said they embrace Van Kleunen's open arms heading into their first season with the Golden Eagles. 
"It's been awesome kind of picking her brain on how to understand Coach Duffy, how to understand the offense, the defense, what does it take to be great here and just embracing her role and trying to be a great leader next to her as well," McLaughlin said. 
Van Kleunen's veteran presence is apparent even to those who only joined the program this summer.
"She is a vet," Myles said. "Sometimes words don't even have to be said, just watching her and what she does (is enough)."
Van Kleunen's consistency night in and night out is something Marotta said she has been able to learn from.
"She comes every single day with the same energy, the same effort, the same leadership skills and it doesn't leave," Marotta said. "That consistency is something that we can all learn from."
Van Kleunen is looking to build off an impressive season in 2020-21, where she earned All-BIG EAST after averaging 13.2 points, 5.8 rebounds and 1.8 assists.
She also scored in double figures in 20 of Marquette's 26 games. 
"Her versatility and ability to score in the paint is huge for us and in this conference," Raterman said. "What's great about Lauren (is) she can stretch the floor. She can step out and hit the three, hit the 15-footer like it's a layup. That's really important for what we're able to do in our offense."
Marotta said Van Kleunen's footwork separates her from others. 
"She's finesse," Marotta said. "Not many people have the footwork that Lauren has and she uses her strength." 
Marotta said she and her teammates know what they are going to get out of Van Kleunen each night.
"She comes in, she knows what she's best at and she's not going to fall away from that," Marotta said. "People always say, never forget what made you famous (and) she doesn't forget what made her famous. That hookshot is constant and it's something no one can defend." 
While Van Kleunen finished her masters in communications last spring, the two-time All-BIG EAST Tournament Team selection decided shortly after last season to return for a sixth-year. 
Van Kleunen said she discussed her decision with her coaching staff, family and close friends. While she said she contemplated starting a professional career overseas, there was one factor that weighed more than the other for her to return.
"The ability to be able to play in front of fans, I think that's a big piece," Van Kleunen said. "I think just kind of having that new, not reality but just how things used to be and that's what I missed. That's something I will never, ever get back." 
The 6-foot-2 forward said the ability to play in front of a familiar audience was something she was not willing to give up on just yet. 
Van Kleunen said the opportunity to wear Marquette across her chest one last time is special to both her family and herself as she is one of the faces of the program. 
"That's something special to us," Van Kleunen said. "The program has had the success it's had because of everyone involved. And I might be at the head because I'm the old head or been here for a long time, but I think that just shows from the standpoint of how great the program is and how important it is to not only me, but those surrounding it."
Van Kleunen became the 31st player in program history to reach the 1,000 point milestone March 7 in the Golden Eagles' 64-59 win against Creighton in the BIG EAST Tournament semifinals.
The accolade put her in the same class as former teammates Allazia Blockton, Natisha Hiedeman, Amani Wilborn, Erika Davenport and Danielle King in addition to former head coach Carolyn Kieger. 
"Those are the people who paved the way and who put the banners up," Van Kleunen said. "Growing up, you saw who was a part of those teams. Just being able to be a part of that and talk about that, it's great but I don't think necessarily that I would have been here without those girls or without my teammates now."
As the season gets started, Van Kleunen is looking forward to one more thing: another NCAA Tournament appearance.
"The biggest thing when I think of it is getting to the NCAA Tournament. That's the long term goal, winning that game," Van Kleunen said. "But how we get there is consistently showing up every day, consistently showing up for games and being willing to do whatever it takes."
This article was written by John Leuzzi. He can be reached at john.leuzzi@marquette.edu or on Twitter @JohnLeuzziMU. 
Leave a Comment
About the Contributor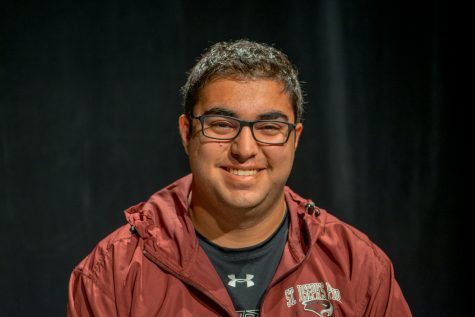 John Leuzzi
John Leuzzi is the executive sports editor for the Marquette Wire. He is a junior from Mount Laurel, New Jersey, majoring in journalism and minoring in...