Men's soccer
Marquette men's soccer is looking to reset this spring after a disappointing 2015 season, which saw the team miss the BIG EAST Tournament for the first time since 2008-'09.
"We know we should have done better," midfielder Martin Alba said. "It was kind of embarrassing last year. No one really enjoyed it."
Head coach Louis Bennett knew he had to make changes. He travelled for nearly five months to add international players to the roster and convince five of Marquette's 10 commits to come to Milwaukee for the spring season. He's also changing the formations the team uses.
"We're not changing the style or brand," Bennett said. "We're changing the formation and systems. We're practicing with it. We still have the old one, but we also have the new one. That's important."
New to the team are forwards Connor Alba and Jan Martins, defensemen Anton von Hofacker and Patrick Seagrist and goalie Noah Heim.
"The new guys have been great," redshirt senior Mac Wheeler said. "A couple of them we've already started plugging into the lineup. They've been doing well."
Bennett has used the exhibition season to mix up lineups, throwing players in new positions to get them more comfortable. Martin Alba has seen the process from the sideline, as he's been out all but two weeks with his second hip injury since October.
"It's weird having new guys in new positions because you have to learn their style of play and get used to it," Alba said. "It just takes time."
Marquette is four games into the spring season; it defeated UW-Parkside and the NPSL expansion team Milwaukee Torrent 4-0 and drew UW-Milwaukee and UW-Green Bay, 0-0.
The offensive unit has either been explosive or non-existent this spring, tying into what Bennett calls Marquette's biggest question mark — who is going to start on the front line? Bennett said the position battle is ongoing.
"Some days I can say, 'It's going to be him, it's going to be him,'" Bennett said. "Other days I say, 'It could be (someone else).'"
Although Marquette has been inconsistent on the offensive side, the defense has four shutouts in a row. Bennett credits that to new assistant Sean Hughes, whose defense excelled during his only season as the head coach at Maryville University. His group there set a program record for shutouts in a season. So far, it appears he's carried that over to Marquette, despite the team returning only two starters.
"With Sean coming in, he's been very instrumental in what we do," Bennett said. "One of the things I liked about his teams in Maryville (was) he stopped the bleeding in terms of giving goals away."
Danny Jarosz and John Pothast are the backbone of the new starting lineup. Von Hofacker will add much needed size but is taking some time to fit into the North American game.
"The adjustment that's needed for the international students, we haven't seen what they fully can do," Bennett said. "I'm just so happy that they came now because they will have had that adjustment period (before the season)."
Marquette has a young group, but players like Louis Bennett II, Pothast and Wheeler have stepped up as leaders. Despite the disappointing season, many freshmen had the opportunity to play due to injury.
"It's a very young but spirited group," Bennett said. "My goal this semester (is) to make sure win, lose or draw, we can see the spirit in the soul of our team."
Marquette plays one final spring game Saturday when the Golden Eagles host in-state rival Wisconsin at 7 p.m.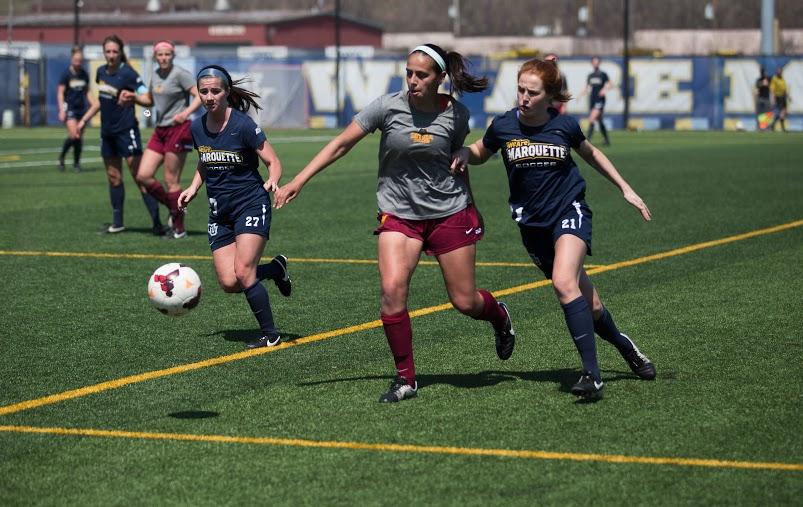 Women's soccer
Though not as disappointing as the men's season, the Marquette women's soccer team missed its own standard. The Golden Eagles finished below .500 – 8-8-4  – for the first time in head coach Markus Roeders' 19-year career.
Much like last season, Marquette is struggling with consistency three games into the spring slate. The Golden Eagles played to a 2-1 loss against UW-Milwaukee then drew both Loyola Chicago and Valparaiso.
"Our first game (against UWM), it wasn't as fluid as you'd expect it to be," Roeders said. "It was much better against Loyola. We had six or seven clear-cut chances we should've finished, but we didn't. Last weekend (against Valparaiso) we played well for 20 minutes, then had a spell where we let our guard down a little bit."
Marquette is without six players, including four regulars from last season who had surgery during the offseason. Meegan Johnston is recovering from shoulder surgery, Cali Pyzdrowski from foot surgery and Darian Powell and Jamie Kutey from undisclosed injuries. All four players are expected to be back into soccer activities by the summer.
"You have to be realistic," Roeders said. "We're playing with a lot of new faces, some very young. Some have done a nice job of filling in, but they're newer to our system still."
Roeders said he's tinkering with the team's formation this spring. Typically, he runs three defensive backs, five midfielders and two forwards. Right now it's a set of four backs, three midfielders and three forwards.
Freshman Sloane Carlson has to prove herself this spring as the only goaltender on the current roster, replacing four-year starter Amanda Engel. Carlson has allowed five goals in three games.
"As a freshman with her background and limited playing time in the fall, she's done pretty well," Roeders said. "There's still a huge learning curve going on for her. We need to get her more consistent, and she needs to exert her presence more often."
To help with that energy boost, the team started working with new Assistant Director of Sports Performance Emily Jacobson, who played with the Golden Eagles from 2010 to 2013. Jacobson was part of one of the winningest classes in Marquette history, including both BIG EAST championship teams.
"She was a great leader and had a great career," Roeders said. "It's great having somebody not only with a Marquette background but young and energetic."
The Golden Eagles will conclude the season this weekend with two 60-minute games against Northwestern and Wisconsin in Madison. They'll be without Morgan Proffitt, who will be in Virginia with the U.S. U-23 Women's National Team.