Golden goal gives women's soccer momentum for Sunday
Junior Pyzdrowski's first career goal gives MU much needed victory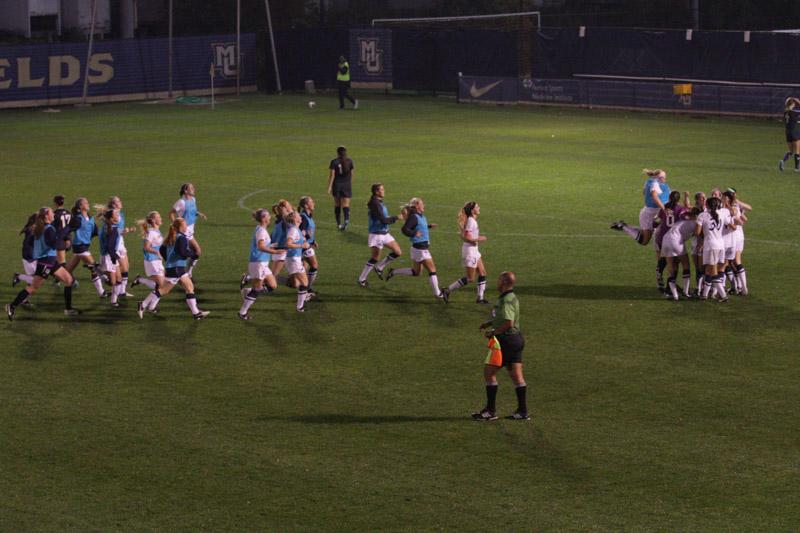 Dan Reiner, daniel.reiner@mu.edu
October 8, 2015
One night after the Marquette men's soccer team got a one-goal win at Wisconsin, the women's team felt the need to follow suit.
On a damp night at Valley Fields, the Golden Eagles took on the Xavier Musketeers in a matchup between two lower-level teams in the BIG EAST standings.
Marquette controlled much of the match and held a 20 to 7 shot ratio through regulation. Senior midfielder Ann Marie Lynch and junior forward Liz Bartels had three shots on goal apiece, but the home side had nothing to show for its offensive dominance through 90 minutes.
Just over a minute into the first overtime period, junior defensive back Cali Pyzdrowski played a ball into the box from about 30 yards out on the right side of the pitch. Xavier keeper Rachel Piccus let the floating ball get through her grasp and it rolled past the endline into the net.
"I was hoping for a better service but we were just lucky that it went in," Pyzdrowski said. "We had plenty of shots on goal and finally one went in. We kept testing the keeper and it was about time that one got through."
The 92nd minute golden goal ended a 277-minute scoreless drought for Marquette and ended their two-match losing streak. It was also the first of Pyzdrowski's career.
"It means a lot but it was more funny because I wasn't expecting it at all," she said of her first tally. "I'm just happy it got us the win."
Head coach Markus Roeders said he was pleased with the entire team's performance, but especially the defense, which allowed four goals against Seton Hall and St. John's last weekend.
"I think our defense was good, our overall movement of the ball was good, our attacking was good," Roeders said. "Our energy for the entire game was fantastic."
The Golden Eagles will look to carry that momentum into Sunday's match against Providence, who needed double overtime to knock off a bad Villanova team Thursday night. The Friars are 9-5 on the season, but are tied with Marquette at 2-2 in the BIG EAST standings. The 1 p.m. match at Valley Fields could be a turning point in either teams' season.