Valley Fields to host weekend soccer marathon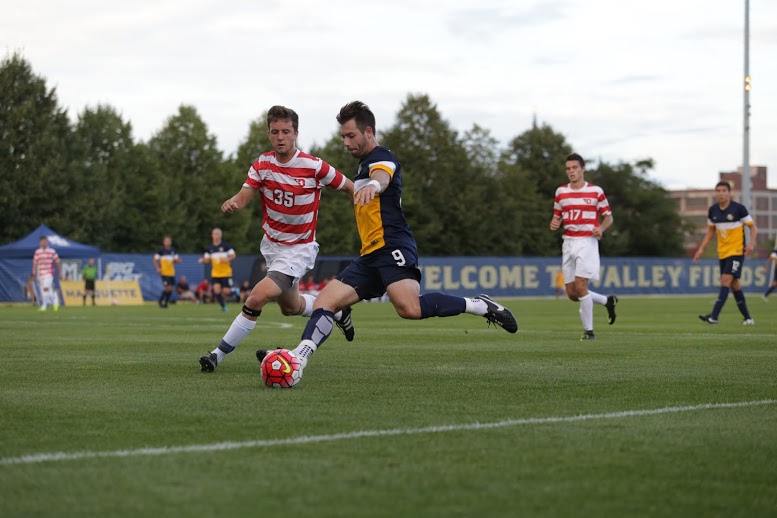 The turf at Valley Fields is going to take a beating.
Marquette will host four soccer matches this weekend, highlighted by the women's Marquette Invitational on Friday and Sunday and a men's match, also on Friday.
After a women's match between Loyola-Chicago and South Dakota State at 3 p.m. on Friday, the men will play Nebraska-Omaha at 6 p.m. and the women will play Northern Arizona at 8:15 p.m.
Following their third one-goal loss of the season last Friday to Minnesota, the women will fight to get back to .500 against a Northern Arizona side that's heating up. After starting 0-3, the Lady Lumberjacks have won two straight, outscoring opponents 8-1.
The Golden Eagles, on the other hand, are in the danger zone with a record of 2-3. After starting last year at the same clip, they went 0-2-1 in the three games that followed.
"We'll keep plugging away. A lot of stuff is still ahead of us," said head coach Markus Roeders. "We're not looking at it like we're having to climb this huge mountain. It's more like 'OK, we've worked really hard, we're kind of knocking on the door, let's just get over the hump.'"
Roeders' squad has lost all three Friday matches they've played, each by a one-goal margin. With a Sunday matinee against South Dakota State in tow, the Golden Eagles will be on the verge of desperation this weekend.
"If you do the job on Friday, then you just kind of go in with a bounce in your step into Sunday."
SDSU comes in with a record of 3-2 after being picked to finish second in the Summit League. The Jackrabbits most recently knocked off Marquette's conference foe, Creighton, 1-0.
Expect the Golden Eagles to go with a deeper lineup in both matches this weekend – they had just four players off the bench against Minnesota after substituting 13 players the match prior against Boston University. Roeders said he'll keep calling on his freshmen and other role players, including junior Cali Pyzdrowski and sophomore Eli Beard.
Between the three women's matches, the men will take on a surprising Nebraska-Omaha squad which is ranked No. 22 by TopDrawerSoccer.com and is receiving votes in the coaches' poll. The Mavericks are 4-0, including a 1-0 victory over No. 13 UC Irvine. Junior forward Mark Moulton leads the team with 3 goals and an assist.
Marquette is coming off a 3-2 victory against the Dayton Flyers on Monday. Although the offense was in high gear, there were some defensive lapses that the Golden Eagles will need to clean up, including some questionable decisions from freshman keeper Luis Barraza and some mishits by the back line.
"We know we have things we need to improve on," redshirt senior forward Kelmend Islami said. "We gave up two goals, so we don't go in celebrating. At practice we started working out right away."
The lads from Marquette are 2-1-1 with only two matches remaining before they kick off the BIG EAST slate on Sept. 26 against St. John's. Nebraska-Omaha is the next challenge on an tough schedule, including No. 12 Oregon State, No. 2 Notre Dame and No. 1 Creighton.