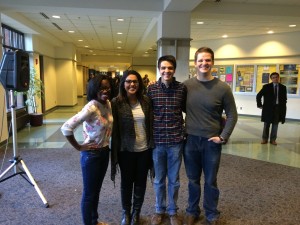 Zachary Wallace and Aliya Manjee, a junior and sophomore in the College of Arts & Sciences emerged victorious from Thursday's Marquette Student Government presidential election.
The Wallace & Manjee ticket received about 52 percent of the votes while Estephania Elizondo and Daniel Bernard received 30 percent and Julia Markun and Richard Krajewski received 19 percent.
That sets up Zachary Wallace, legislative vice president, and Aliya Manjee, president pro tempore, to take over Kyle Whelton's president position and Natalie Pinkney's executive vice president position respectively next year.
A total of 1,764 students voted in the election, accounting for a total of 23 percent of the student population. That's just about the same turnout from last year, at 22.3 percent.
Since online voting was introduced in 2005, the spring general elections average turnout stood at 29 percent.
"It is pretty consistent with past couple years, we would love to have higher than 23 percent,"Wallace said. "We are actually above national averages for colleges, we will continue to make sure next year sees a higher turnout," he said.
The election process face issues during the voting periods on election day. Some voters were unable to cast a vote for the presidential candidates from midnight to 7:38 a.m. A special election was held for those voters and the results of both elections were combines.
Wallace said he was excited to start his work as MUSG President. Wallace organized a neighborhood cleanup to take place on March 28.
"The first goal is making sure the Neighborhood Clean Up goes well tomorrow," Wallace said. "We will continue to address the large issues and make sure community engagement continues to be a focus for MUSG," he said.
Both Markun and Krajewski and Elizondo and Bernard said they thought Wallace and Manjee were qualified for the position. Krajewski said MUSG is moving in the right direction with Wallace and Manjee in leadership positions.
Elizondo and Bernard both agreed that regardless of who won, the other tickets helped raise awareness for issues on campus.
"I am proud of our ticket because we got students who have never voted for MUSG before to vote," Elizondo said.
Students also voted on a referendum during the election on the student activity fee. About 54 percent of voters answered that the $30 per-semester activity fee was sufficient while 27 percent said it was insufficient. About 19 percent answered they did not know.
Story continues below advertisement