Marquette advances to seventh straight semifinal behind dominant defense down the stretch
UNCASVILLE, Conn. – Marquette and St. John's entered Saturday's Big East tournament quarterfinal matchup looking to separate itself from the other on the bubble of the NCAA Tournament with a win. 
The Golden Eagles (21-9, 13-7 Big East) did just that as they took down the Red Storm 57-47 at Mohegan Sun Arena. 
"I'm just thrilled," Marquette head coach Megan Duffy said. "What a great game by our team. I thought our grit and toughness throughout the 40 minutes was really impressive. Just so proud of our grit led by Chloe Marotta, especially her second half." 
With the win, the Golden Eagles advanced to their seventh straight Big East Tournament semifinal. 
Marotta Special
In the second half, both sides traded baskets profusely, but it was senior forward Chloe Marotta who led the Golden Eagles to the finish line. 
After getting in foul trouble in the first half, Marotta bounced back with in the second half finishing with 18 points while pulling down 14 rebounds.
She had 14 points on 6-for-6 shooting from the field and eight rebounds in the second half alone. It's the ninth double-double of the season for Marotta.
"Jordan King did a really good job off her reads," Marotta said. "I just have to be confident to knock it down. Staying steady throughout the entire thing is really important as well. Calm, collected, just shoot the ball when you get it and go back and play some good defense." 
Statistical Leaders:
Along with Marotta's performance, senior guard Jordan King netted 16 points and dished out five assists. Junior forward Liza Karlen added 16 points on 6-for-9 shooting.
Together, the trio combined for 50 of Marquette's 57 points.  
"They've been our big three," Duffy said. "Obviously, we lost Liza right after Christmas with an injury for a while. I thought Liza throughout the course of the game was a steady anchor for us, very efficient. Just really like the way she's playing and the way her confidence continues to grow." 
Graduate student guard Mimi Reid led St. John's with 11 points. Redshirt senior guard Kadaja Bailey tacked on 10 points while redshirt senior forward Rayven Peeples grabbed 10 rebounds. 
Marquette women's basketball sealed the deal against St. John's with a 57-47 win. #MUWBB #BIGEAST @avamaresMU and @Hilsontrevor discuss keys to the victory and what to expect tomorrow in the Marquette vs UConn semifinal showdown. pic.twitter.com/gEK4UqLTO8

— Marquette Wire Sports (@MUWireSports) March 4, 2023
Trading runs in first frame
St. John's offense found its spark first in this contest, going on a 6-0 run heading into the first media timeout. The Golden Eagles were shooting 25% from the floor compared to the Red Storm's 50%. 
After the media timeout and with 3:47 left to play, Marquette's offense came out with aggression as it went on a 12-0 run to finish the first quarter and extended into the second. 
The Golden Eagles shot 42.9% from the field and the Red Storm shot 30.8% in the first frame. 
Duffy's Defense
Since Duffy took over at the helm, Marquette's defensive identity has led into its offense. Saturday was another example of that.
The Golden Eagles outscored the Johnnies 17-6 in the fourth quarter while holding the Red Storm scoreless for the final six minutes of the frame.
"I thought our defensive intensity turned up," Duffy said. "Their tenacity, their fight, they're slapping the ground, trying to get our little crowd involved. That energy fed off one another and that's been our staple all year. It's really good to see it when it matters the most." 
Next up:
Marquette will move on to face No. 1 UConn (27-5, 18-2 Big East) in tomorrow's Big East semifinals. Tip-off is set for 2 p.m. CST and will be streamed on FS1. 
This article was written by Kaylynn Wright. She can be reached at [email protected] or on Twitter @KaylynnWrightMU. 
Leave a Comment
About the Contributor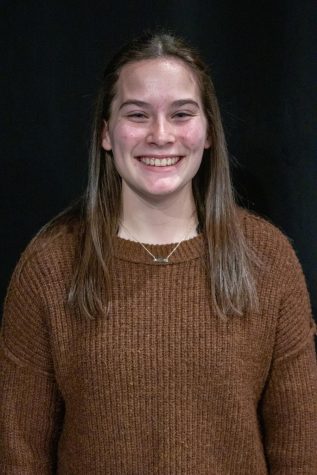 Kaylynn Wright, Assistant Sports Editor
Kaylynn is an Assistant Sports Editor at the Wire. She is a first-year from Menomonee Falls, WI studying journalism.

In her free time, Kaylynn enjoys...