MCTS, Marquette sustainability looking at more efficient, better bus routes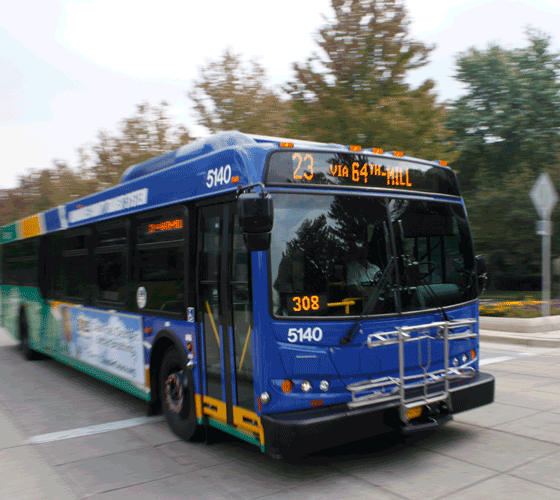 Marquette Sustainability and the Milwaukee County Transit System held two community meetings on campus Nov. 19 to discuss a review of the entire transit system through MCTS NEXT, the first comprehensive review of the system in 40 years.
At the meeting, new routes were proposed. Jacqueline Zeledon, communications manager at MCTS, said that newly proposed routes are aimed to be faster, have more coverage of the Milwaukee County area and give more access to riders.
Brent Ribble, Marquette sustainability coordinator, said he is excited about MCTS NEXT and how the future of Milwaukee transit will change.
"Driving to and from campus every day using hundreds or thousands of single occupancy vehicles has harmful social, environmental and economic costs, including costs associated with tailpipe emissions and global climate change," Ribble said. "MCTS NEXT and other transportation strategies will motivate and enable more of our students, faculty, staff and visitors to seize the opportunity to avoid and reduce these costs."
Jeff Sponcia, MCTS manager of planning, said MCTS NEXT wants to get feedback from riders to know what is most important to them by hosting open houses for community members to attend in December of this year.
Sponcia added that MCTS provides around 125,000 rides on a weekday or 35 million rides a year.
"We need to adapt to the current needs of riders and really make sure we are connecting and getting riders to where they want to go."
Sponcia said 40 percent of all current bus routes operate at 15 minutes or better, meaning a bus arrives at a given stop every 15 minutes. He added that the remaining 60 percent of bus routes operate anywhere from 20 to more than 40 minutes.
"There are quite a few routes where buses aren't coming very frequently," Sponcia said.
Mariah Hanrahan, a junior in the College of Nursing, said it takes her about 40 minutes to get to Froedtert Hospital and the Milwaukee campus of the Children's Hospital of Wisconsin, where she works during the week.
Hanrahan said she takes the bus at least twice a week, and usually has to wait anywhere from five to 20 minutes for the bus.
Hanrahan said she would like to see buses stop more frequently in the morning.
"I usually have two options in the morning: take a bus that drops me off at work 45 minutes to one hour early or take a bus that drops me off right when I'm scheduled to work, or a few minutes late," Hanrahan said.
Two redesign options
Matt Sliker, MCTS integrated marketing manager, said after surveying riders in 2017 and 2018, MCTS found that riders wanted to see buses more frequently, adding that MCTS held five public meetings over the summer to introduce proposed routes with higher frequency service.
MCTS NEXT is proposing two possible options to riders for the redesign of the transit system.
"Our team of planners started working on route map proposals after the initial round of public input was received," Sliker said. "Keep in mind, these two options are only drafts and that is why we are working so hard to get feedback."
Sponcia said the first option would consist of 60 percent high-frequency routes and 40 percent of routes for local and daytime service.
He added that option one would consist of eight daytime routes running from 6 a.m. to 7 p.m. as well as 15 local routes.
Sponcia said MCTS NEXT is shifting service away from areas with a low rate of ridership, which are scattered.
"We are considering how many people are on the buses and how many hours the buses are on a route," Sponcia said. "If not a lot, we have to ask ourselves, 'Why are the buses out there?'"
Sponcia said option two would consist of 80 percent higher-frequency routes and 20 percent of routes for local and daytime service, adding that by shifting the space between stops from every block to every two or three blocks, a tradeoff to these new proposals is walking a little farther to a bus stop.
"I live really close to the 22nd Street bus stop, which is very convenient," Hanrahan said. "If the bus stop would move further up Wisconsin (Avenue), it would not be worth a faster bus ride."
Sponcia added that with fewer stops, there would more opportunities for shelters and benches along the routes.
Part of nationwide trend
"We are trying to get back to when transit was at its most robust," Sponcia said, adding that in the 1990s, MCTS buses were functioning at 70 percent high frequency.
Sliker said the reason the buses are not functioning at a high frequency anymore is because funding for public transportation has dropped over the years for service to be provided to a larger area.
Brendan Conway, MCTS chief marketing and communications officer, said MCTS NEXT also wants to make using the bus system easier for riders.
"For people who don't ride the bus a lot, it can be confusing," Conway said.
Conway added that by making the bus system simpler and more accessible, ridership will hopefully increase.
"It'll be better for riders and will improve sustainability," Conway said. "With more people on the bus, there will be more people off the road in cars."
Sponcia said Milwaukee is not the only city in the United States redesigning its transit systems in this way, adding that cities such as Indianapolis and Boston have made similar redesigns.
Sponcia said the next steps for MCTS are to take the feedback from riders and elements of both redesign options and use them for spring 2019 to see what option will be implemented.
The Milwaukee County Board would need to approve the proposed plan at the beginning of 2019 before changes could be implemented in 2020, Silker said.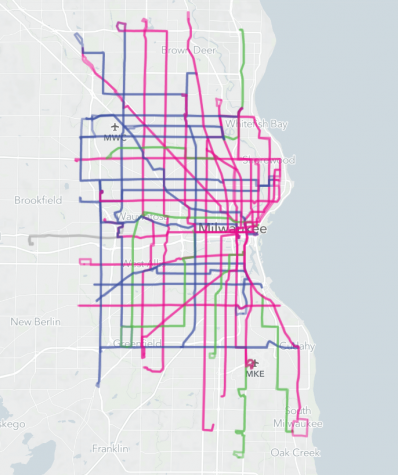 Leave a Comment