Creepy skeletons, ghouls and zombies are hiding around the Rave getting ready for the spooky holiday. Though their decorations are a start, the Rave does its best celebrating by having live music. This Halloweekend the Rave gave us a treat of Mac Miller's performance. Although I don't really know much of his work past his hit song "Party on Fifth Ave.," Mac Miller had plenty of other fans excited about his stop in Milwaukee.
He had some DJs perform before he took the stage, which was kind of fun. It's always nice to hear your favorite throwback tunes remixed and thrown together. But the DJ just played on stage, and the crowd kind of just bopped their heads and danced a little. No one was too interested in it.
Then the stage went dark, and you could spot a fuzzy black figure on the stage. The lights then flickered on, and the crowd went wild as they saw Mac Miller in the flesh in front of them. He started the show in front of the mic singing his song "Cinderella" from his latest album, "The Divine Feminine." He had a crazy light show that moved about and flashed all over the stage. Everyone was yelling the lyrics with him, bouncing their arms up and down with him and, for the most part, having a great time.
However, from the rap concerts I have been to, the rapper always has a large amount of energy, dances all over the place, makes outfit changes, etc. Mac Miller did this for a few songs like "100 Grandkids" and "Dang!" But for the most part, he was just standing in front of the microphone rapping. This personally bummed me out as well as some of the crowd. Throughout the show, the fans' energy was low, and it only got higher for a few songs. It felt like it was a concert just for listening, which is fine, but it just doesn't fit his genre of music.
A special guest came to the concert and livened it up. During the show, a celeb guest sat in the VIP section to check out the show. As we were all standing in the crowd, people pointed in a direction, and said, "Oh my gosh. Look over there! It's Ari." Immediately, I ran over to the VIP section, and sure enough, found the one and only Ariana Grande, bopping her high ponytail and rapping the lyrics to her boyfriend's tune.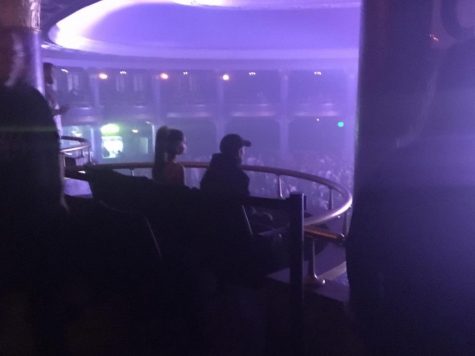 Photo by Lily Wellen
I was so entranced that I was a few feet away from Ariana Grande that I forgot I was at Mac Miller's concert. I honestly missed two full songs from staring and chatting about Ariana Grande, which says a lot about his set. It was so eh. It was boring to stare at him in front of the mic for the whole show. The only real highlight of the concert was when he sang his hit song "Loud." Anyone who has even listened to a few songs by Mac Miller most likely knew this song, so the crowd was going crazy. Everyone was dancing like no one was watching and screamed the lyrics they knew, making it a fun time.
After he sang "God is Fair, Sexy Nasty," he ran off of the stage. The crowd didn't say anything for a few minutes, and then in the crowd someone yelled, "Ari!" Once again, people had more of an interest in Ariana Grande than Mac Miller. But soon enough, Mac Miller came out and did an encore.
He sang three songs for it and honestly killed it. He closed out strong with more vigor and spirit than the crowd had ever seen him. The lights were insanely flickering around. The crowd's liveliness was through the roof. These songs made the concert fun and made it enjoyable to be there.
Mac Miller brought a pretty good show to Milwaukee and made his fans happy to see him, and that's all that matters. I don't think I would see him again, but who knows? So Mac, thanks for the concert, maybe see you again.
SET LIST: 
Cinderella
Brand Name
100 Grandkids
Insominak
Congratulations
Dang!
Stay
Best Day Ever
Bird Call
Break The Law
Watching Movies
Rush Hour
Weekend
We
Loud
Lucky Ass Bitch
God is Fair, Sexy Nasty
ENCORE: 
Diablo
Nikes On My Feet
When In Rome