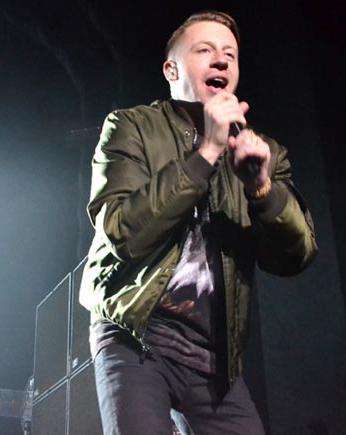 The crowd filled the Rave Friday night all in anticipation for Macklemore & Ryan Lewis to take the stage. They sold
out the Eagle's Ballroom, which made the Rave packed with fans ready to jam out. Shortly after 8:30 p.m., the lights started to come on, a video played, the sound of their music began to trickle in all to help introduce the rap duo and their gang to the stage. As soon as they took the stage, the crowd went wild.  They opened the night with their song, "Ten Thousand Hours," getting the crowd pumped up and excited for the rest of the night.
As the night went on, they wowed the audience with their theatrical performance. For "Thrift Shop," Macklemore threw on his iconic fur coat and had a video reflecting the lyrics playing in the background, adding a fun vibe to the show. His song "Wing$," another popular tune from "The Heist," included help performing this song from trombone players, trumpets and some backup singers. For more serious songs like "Otherside" and "Same Love," he discussed his views on equality as well as his time in rehab. It was interesting for a musician to talk about what inspires him and more than just his music.
The highlight of the concert, however, had to be when Macklemore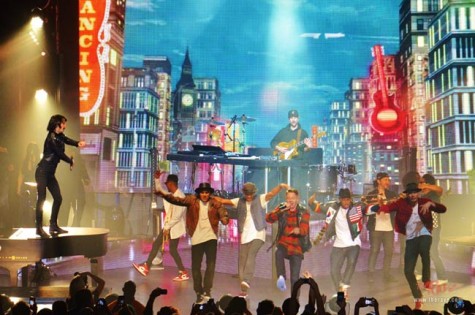 performed his latest hit song, "Downtown." He filled the stage with dancers and performed a killer dance routine. Even Eric Nally from Foxy Shazam came to belt downtown, amazing the audience. The show could have ended after this song since it was so epic, but he continued on. He kept the show going by dancing around in different costumes and wigs, making the audience wanting him to never leave the stage.
He closed the show by thanking everyone in his crew and by announcing his upcoming album that will be out Feb. 26. This was the last show on their tour, and they mentioned it was a great way to close it (The Rave audience agreed). Macklemore & Ryan Lewis left Milwaukee hoping they return soon, it was a show that will not be forgotten.​