Tennis teams compete in Indiana, seeing improvements
Men's team preps for ITA All-American pre-qualifier next weekend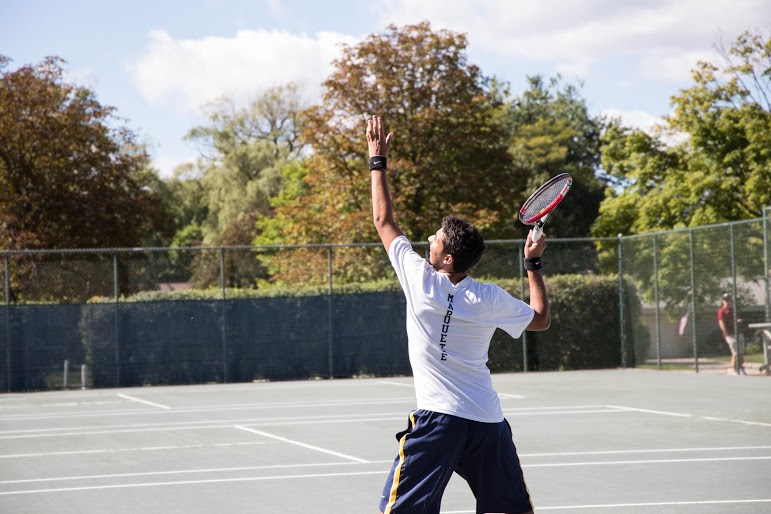 John Hand, john.hand@mu.edu
September 29, 2015
This weekend Marquette's men's and women's tennis team traveled to Indiana to compete in two separate tournaments.
On the men's side, Scott Christian, Andre Romanello, Gelb Skylr and Alvaro Verdu traveled to Purdue University to compete in the Purdue Invitational. As four of the younger players on the team, they were chosen by head coach Scott Rodecap to compete in the tournament to gain some experience and give the other four players on the roster a chance to rest up in advance of the ITA All-American pre-qualifier this weekend in Tulsa, Oklahoma.
Because some of the more experienced players didn't travel with the team, it gave the freshman Verdu and sophomore Romanello a chance to play in higher flights than they usually play in. Verdu was able to advance to the second round of the tournament after his first round opponent withdrew. In the second round, however, he lost a closely contested match 7-5, 7-6 to Dayton. Even though Verdu didn't play as well as he would have liked, his coach was pleased with the way he competed.
"I think Alvaro is one of those guys that is really motivated and hungry to become an elite level player for us," Rodecap said.
Romanello won his first match, but fell to Tennessee in his second match 6-0, 3-6, 6-2. Romanello and Verdu later picked up a doubles win.
"In this sport you aren't going to have success every time out there. You can't get real high about wins or get too low about loses," said Rodecap.
Approximately 113 miles away from Purdue, Marquette's women's tennis team was competing in the Hoosier Classic in Bloomington.
Senior Erin Gebes and freshman Silvia Amrbosio continued to play well as a doubles team, winning two out of their three matches, but women's head coach Jody Bronson said she would like to see improvement with the doubles teams and is still working on finding the right doubles team combinations. Overall, Bronson was pleased with the progress her team has made in the last two weeks.
"The things we are talking to the team about, they are trying to implement when they are playing," Bronson said. "If they are trying to do that it is a step in the right direction."
Ambrosio also played well in singles action, advancing all the way to the flight 1 finals before losing 7-5, 1-6, 1-0 (10-7).
The work senior Aleeza Kanner put in this offseason has seemingly paid off after a strong performance last weekend in the Milwaukee Tennis Classic. Kanner continued to play well in Indiana with several singles victories.
"[Aleeza] has really good energy and is a really good team leader," Bronson said. "She just has to keep moving forward, she is playing better."
Perhaps Kanner's improvement will continue next weekend when she plays in her home state of Arizona at the Arizona Wildcat Invitational in Tucson.