Lana Del Rey's 'Honeymoon' exceeds previous albums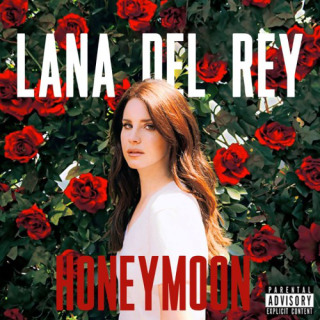 Alexandra Atsalis
September 22, 2015
Halfway through Lana Del Rey's new album "Honeymoon," released last Friday, is an interlude where Del Rey recites T.S. Eliot's poem "Burnt Norton:" "time present and time past are both perhaps present in time future, and time future contained in time past If all time is eternally present."
It's a seemingly pretentious selection for a pop album. However, it is a bizarrely fitting description for the anachronistic style of Del Rey's music which transcends traditional categorization.
Del Rey is a touch-singer who croons via fluorescent light, a jazz musician on Hollywood Boulevard performing among neon signs, she's a vintage-soul with millennial problems who lights a candle for the beat poets of the 1950s and classic rock figures of the '60s in every lyric.
Her previous albums have alluded to this persona, but none so much as "Honeymoon." The album is 14 tracks of  effortless vocals, cinematic instrumentals and darkly romantic lyrics.
The best example of this is the album's title track. It begins with a string instrument playing a melody that's reminiscent of the melodramatic films from Hollywood's Golden Age. As Del Rey begins to sing, a delicate piano replaces the tune. Eventually the two instruments' sounds intertwine as Del Rey harmonizes with her voice. When she sings, "There are violets in your eyes, there are guns that blaze around you," it's uncertain whether this is a song of love or lamentation. Like the rest of the album, it's captivating and unsettling.
Del Rey's style of singing divides listeners. Though her voice often sounds cold and lazy, in this album presents itmore of a vulnerable drawl. It's unexpectedly beautiful, and at times, stunningly tragic. The listener is unaware if she is too cool to perform, or too heartbroken to sing.
This is particularly evident by her ability to transition from a sing-song whisper to a remarkable falsetto, which she utilizes nonchalantly throughout the album.
The juxtaposition of her delivery with sweeping cinematic instrumentals, both eerie and alluring, epic and intimate, easily evokes imagery in the listeners' minds, making film directors of them all.
Del Rey takes impressive advantage of the orchestral accompaniment. Somehow she avoids allowing the epic music to overshadow her delicate vocals, by naturally disciplining it with her mournful voice.
Her voice is like a sponge: absorbing the emotion and feeling of any music is playing behind it. It's like a mind trick. For all the listener knows, Del Rey may actually sound the same in every song, but the background music tricks listeners into associating emotion with her delivery. It's more of a brilliant technique than a cheap trick.
Although this method is successful, individual songs blur together. The tracks are fairly consistent in style, and this shows some artistic maturity, but a listener can hear the entire album before realizing that more than a couple of songs have passed.
Additionally, Del Rey may have evolved vocally and musically, but lyrically she is only a small step up from her previous songwriting credits.
Throughout the album she tosses around stereotypes and serenades nonspecific lovers about vague relationships.
It's poetic, yet self-indulgent, and at many times cliché. However, her allusions to pop culture are slightly more subtle than in previous songs, which is commended.
Fans of Del Rey will be delighted with this album; it's un-apologetically Lana. Meanwhile, its baffling distinctiveness will inspire new listeners tired of mundane radio plays.
However, those looking for a party album will not find it in "Honeymoon."
Much like T.S. Eliot's poem, neither time nor place can define this album. Inspired by the past, present and future, every song sounds nostalgic, yet feels distinctly modern. With "Honeymoon," Lana Del Rey creates not only an album, but a world.