Toughness defines Carter as he embarks upon MU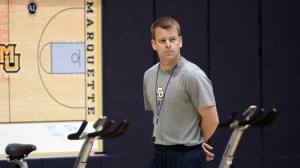 Philadelphia native Traci Carter comes from a section of the country that Marquette has not had much of a recruiting stranglehold on in the last few years.
Carter, who played at Life Center Academy in Burlington, N.J., is the first player from the Northeast on Marquette's roster since Buffalo, N.Y. native Lazar Hayward was on the team during the 2009-10 season.
Fortitude, grit and perseverance are traits associated with players from the east coast, especially from the City of Brotherly Love. These are also traits Carter has been forced to exhibit the last couple of years and is something coach Steve Wojciechowski admired in Carter when assembling his inaugural recruiting class.
"He's got Philly toughness," Wojciechowski said about Carter in his April 15 press conference. "He's a kid who flew a little bit under the radar because he was injured in July of last year and so he wasn't playing in all of these big events that a lot of kids get a lot of attention from."
About a year ago, Carter needed that toughness to overcome a torn meniscus he suffered during a workout at the conclusion of his junior year. Carter missed the following summer, a crucial part of the recruiting period and his recruiting stock took a tumble.
At the time of his injury, Carter had offers from Cincinnati, Penn State and Tennessee. As Wojciechowski mentioned, Carter fell under the radar for a while, but his stock rose rapidly at the end of 2014.
According to 247Sports.com, Carter ended his recruiting having received offers from fellow Big East foes Xavier, Creighton, Seton Hall, St. John's and Villanova, as well as Iowa, Connecticut, North Carolina State and Dayton.
Hometown schools St. Joseph's, Temple, La Salle and Drexel were also in on Carter, but he took only two visits during the recruiting process: Xavier and Marquette.
After visiting Xavier Feb. 28, Carter paid a visit to Milwaukee March 7, verbally committed to Marquette three days later and officially signed a month later. He enters Marquette rated as the fifth best player in the state of Pennsylvania and the 30th best point guard in the country, according to ESPN. He was coached by 11-year NBA veteran Pervis Ellison at Life Center Academy.
Carter went from an embattled point guard nobody wanted to joining Wojciechowski's perennial recruiting class. Carter is the only true point guard on the roster right now and could see plenty of minutes as a freshman.
Carter is a combo guard who is effective on both ends of the floor. Offensively, Carter has a balanced skill set with a solid shooting ability and the agility to take advantage off the dribble with a soft touch around the rim.
His toughness is best exhibited on defense, where he overcomes his slender 6-foot, 160-pound frame with a hard-nosed attitude and deceptively quick feet.
Carter can be a bit over-aggressive and has a tendency to force shots and passes rather than take what the defense gives him.
Marquette may have landed a coup in Carter. He hasn't suffered any setbacks since his knee injury and could step in and play right away at the point. Carter fits the mold of toughness and fortitude Wojciechowski is trying to build at Marquette and could exemplify it as early as his freshman year.
Leave a Comment