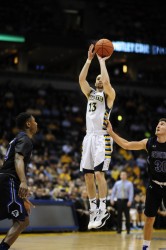 The Marquette Golden Eagles let another game slip away, as the team fell to Butler 72-68 in overtime Saturday afternoon. The loss is Marquette's fifth straight loss, the longest losing streak since the 1990-91 season.
"This game demanded a lot of us and our guys responded in a really good way," Butler coach Chris Holtmann said. "That was a great college basketball game."
Marquette coach Steve Wojciechowski said he was frustrated with the final result because he thought his team played well enough to win.
"I'm disappointed for our players, because they played with a winning effort," Wojciechowski said. "We had a couple breakdowns at the end of the game."
Marquette (10-11, 2-7) led by 10 points with 4:20 left in the game, and by eight with 2:18 left. From then on, the Golden Eagles shot just 4-for-13 from the field for the rest of the game.
"I think Butler played very good defense," Wojciechowski said. "I think where we got hurt was not being able to rebound. We're not an offensive juggernaut by any stretch of the imagination."
The Golden Eagles milked the clock and continued to come up with empty possessions, which allowed Butler to claw back into the game. The Bulldogs (16-6, 6-3) erased the eight-point deficit and even had a chance to end it before overtime when Roosevelt Jones missed a running floater as time expired.
In overtime, Marquette made its first shot of the extra period to go up 60-58, and it would be the last lead of the game for the Golden Eagles. Butler went on a 6-1 run, and closed the game out with six straight made free throws. Starting with Marquette's eight-point lead, Butler made 12 free throws compared to Marquette's one.
"We've talked all year about it's a long game from three minutes on," Holtmann said. "Certainly the odds were stacked against us there. But we just tried to stay with it… We wanted to try to get to the free throw line."
Leading the charge for Butler was Andrew Chrabascz. Chrabascz shredded the Marquette defense for a career-high 30 points. The next closest Bulldog was Kellen Dunham, who notched 17 points on the day. The Golden Eagles did have one bright spot on defense, as Marquette held Jones to just two points and three rebounds.
"He had a whale of a game," Wojciechowski said. "He was the guy that put Butler on his back….he was the player of the game."
Even with Chrabascz's extraordinary day, Butler was able to get the victory due to a 47-33 rebound advantage. The Bulldogs brought down 19 offensive rebounds and turned them into 14 second chance points. Kameron Woods had 18 rebounds of his own. Marquette only managed 10 offensive rebounds and six second chance points.
"They're one of the best offensive rebounding teams in the Big East, and they've been that way," Wojciechowski said. "They're kids crash the boards really hard. We knew that going into the game."
Graduate student Matt Carlino and redshirt freshman Duane Wilson continue to lead the Golden Eagles statistically, as both finished with 18 points. Wilson made two tough layups in overtime, but Carlino went 0-for-4 from behind the arc in overtime. For the day, Carlino shot just 25 percent from behind the arc and 31.2 percent from the field.
Holtmann said his team was focused in on Carlino at the end of the game.
"Carlino has a flair for the dramatic," Holtmann said. "He makes big shots as good as anybody in our league. Him with the ball late is scary. So certainly he was at the forefront of our mind."
Wojciechowski said Duane has become a vital part of the Marquette offense and he's stepped up when he's needed to.
"Duane's has got to be a First Team All-Big East Freshman candidate," Wojciechowski said. "Dunae's had a heck of a year… For a team that can sometimes be scoring challenged, we need him to score. And he can."
The Golden Eagles will try and snap the losing streak at No. 7 Villanova Wednesday night.