1. 1904-1914: On June 28, 1909, Marquette University president James McCabe, S.J. admitted female undergraduates for the first time, for summer classes. McCabe's act made Marquette the first Catholic university in the world to admit women.
2. 1914-1924: Marquette students organized the Marquette Loyalty League in 1918 in response to the United States entering World War I. According to MU's yearbook, the Hilltop, its goal was "to centralize all patriotic efforts and assist the government in the successful prosecution of the war."
3. 1924-1934: The Great Depression hit the country hard during this decade, and Marquette was not exempt from the struggle. Budgets were cut across campus, and its radio station had to close on May 25, 1934.
4. 1934-1944: From 1941 to 1943, Marquette's male student population dropped 39 percent due to enlistments into World War II. By March of 1943, formal social functions were temporarily stopped because of the dwindling student numbers.
5. 1944-1954: The Association of Marquette University Women initiated the O'Donnell Hall building project between 1950 and 1952 in hopes of providing more suitable housing for female students. AMUW worked on other housing projects prior to 1950, but this was its largest, giving accommodations for 351 women.
6. 1954-1964: Marquette acquired the J.R.R. Tolkien Collection for the Memorial Library archives in 1957. The collection includes some of Tolkien's original manuscripts, drafts of "The Hobbit" and "The Lord of the Rings," audio and video recordings and more.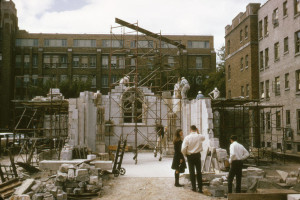 7. 1964-1974: The St. Joan of Arc Chapel was dedicated on May 26, 1966. Originally built in France over five centuries ago, the chapel was brought to America by Gertrude Hill Gavin. She coordinated its dismantlement and transfer to Long Island in 1927. She passed on her estate to Mr. and Mrs. Marc B. Rojtman, who later donated the chapel to Marquette in 1964.
8. 1974-1984: On March 28, 1977, Marquette's men's basketball team defeated North Carolina to win the NCAA championship title with a final score of 67-59.  The game marked head coach Al's McGuire's last; he announced months earlier he would retire from coaching at the end of the season.
9. 1984-1994: The nonprofit corporation Campus Circle Project was started by Marquette in December, 1991. Its mission was to revitalize the declining 90-block neighborhood surrounding the university. Using $9 million from reserve funds and almost the same amount from an anonymous donor, the group purchased dilapidated property and renovated it into livable space.
10. 2004-2014: Marquette inaugurated its first lay president, Dr. Michael Lovell, on Sept. 19, 2014. He announced several new initiatives for the university during his inauguration, including a Center for Advancement of the Humanities, a presence at the Innovation Campus and partnerships with Global Water Center and Avenues West.