BYRON: Halloween has been invaded by sexism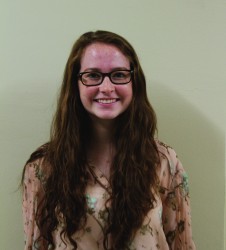 If one were to walk into a costume shop, they would likely see the room divided into two sections: one  for women, and the other for me. The costumes for the females would be tight, skimpy little pieces of cloth that look as if they can't cover anything, while the male costumes would consist of full, tailored shirts and pants. If one were to look at the words that accompany the female costumes, one would see the words "sultry," "sexy" and "sassy." If one were to look at the words that accompany the male costumes one would see that the words listed above are not used.
See where I'm going with this? No? Let's get a closer look.
Take a pirate costume. If one were to venture into the men's section, one would find picture of a man modeling long brown pants, a fully covered white shirt, an overcoat to go on top and a captain's hat with a feather on the package. If one were to mosey into the women's section, one would find a woman modeling see-through fishnet stockings, a piece of cloth that is probably supposed to be used as a skirt, a corset, knee high boots with a high heel and a captain's hat.
This is a costume that could be worn by either a man or a woman. Why do the costumes appear so different? Why doesn't the male costume come with fishnets? Why doesn't the female costume come with an actual shirt?
Sexualizing women is unfortunately not a new concept in our society, and hyper-sexualized costumes have been around for years. The degrading costumes need to stop. It is almost impossible to go to a Halloween or any type of costume store and come out with a decent looking and fitting costume. It is almost impossible enter these kinds of stores and not see the word "sexy" in front of every outfit. Sexy nurse. Sexy lawyer. Sexy schoolgirl. Sexy librarian. Sexy cop. Sexy corn. Yes, there is actually a sexy corn costume. Google it.
And the sad thing is it's not just costumes made for women that are blatantly sexist. Costumes made for young girls are sexualized as well. Little girl's costumes include princesses, nurses and bugs in dress form. Little boy's costumes are strong super heroes, doctors, police officers and firefighters.
Women are constantly being scrutinized and judged for their looks and for being too sexy on Halloween. We get called names for wearing these revealing costumes, and we get called names for not wearing these revealing costumes.
Women and young girls should not be subjected to these kinds of costumes and should be offered more options. Women are intelligent human beings and are more than sexual objects to be ogled.
As kids, Halloween was mostly about the candy and getting to stay up late. As we get older, Halloween is less about sugary treats and more about the costume. Halloween is one of the only holidays where one can be someone or something completely different from him or herself, so why not get creative? Hopefully some day women can walk into a Halloween costume store and simply see a room full of interesting and fun costumes.